This blog post is sponsored by Balsam Hill.
Welcome to the 2019 Edition of The 12 Days of Christmas! I am SO excited to share this season with all of you, starting by offering you my BEST professional tips for styling your Christmas tree to achieve that "designer look." I'll share a few of them here on the blog, but there are several more over on my YouTube channel.
This year, I've partnered with Balsam Hill (a dream come true), and let me just start by saying, I've seen a LOT of artificial Christmas trees in my line of work. A Balsam Hill tree is, by far, the most realistic tree I have seen.
Have you ever been watching a cozy Christmas movie on the Hallmark Channel, or maybe one of your favorite daytime TV shows like "Ellen," and wondered, "where did those spectacular trees on the set come from?" My friends, they are from Balsam Hill! The reason why Balsam Hill trees look so realistic is because of their exclusive True Needle foliage, which mimics the color, texture and structure of real evergreen needles. I've been wanting to get my hands on one of these trees for years, and I'm so excited to share how I decorated this beauty with all of you.
Here are some of my top tips for how to style your Christmas Tree like a professional tree designer.
Pay Attention To Tip Count & Light Count
The Tip Count on an artificial tree can make a huge impact on not only how long your tree will last, but also how realistic it is in appearance. No matter the type of artificial tree, be it fir or spruce, Silverado or Sonoma, a higher tip count results in fuller, more gorgeous trees.
The Light Count is also important when considering a pre-lit artificial tree. But more important than the amount of lights, is there placement. Lights that are placed on both the tips of the tree all the way to the trunk of the tree will ensure spectacular view both day and night.
This year I'm sharing the 12 ft. Vermont White Spruce Narrow tree, with Candlelight Clear LED lights, and an easy plug system to make assembly a breeze.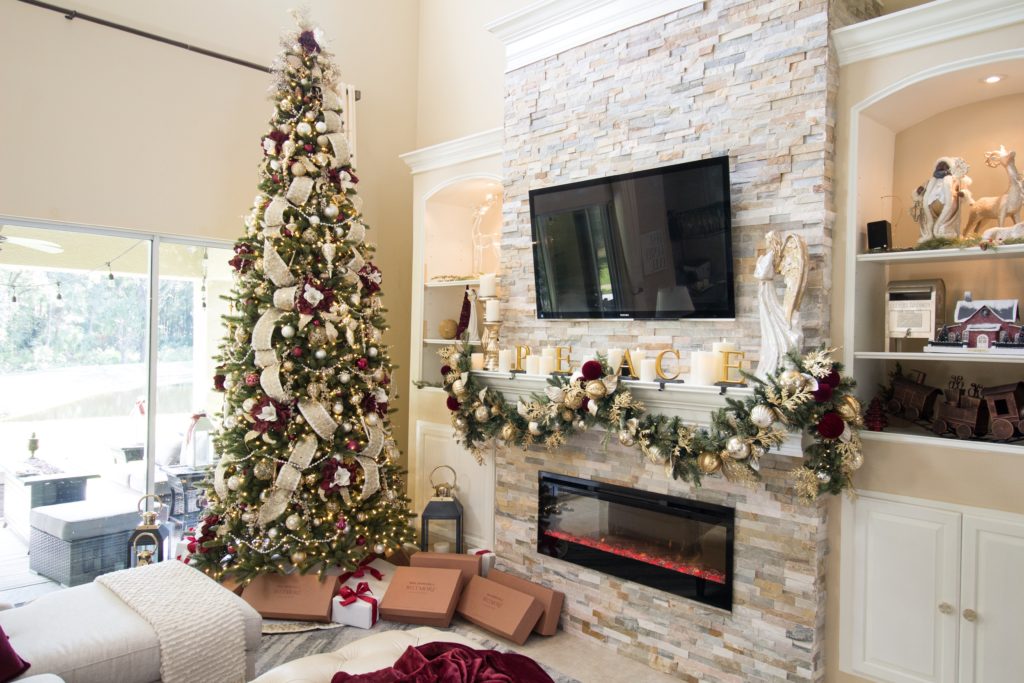 Tuck Ribbon Deep Into The Tree
I love to decorate a tree with ribbon. And let me tell you, this year, I had a SHOWSTOPPER. The Biltmore Gilded Tree Ribbon by Donna Stevens offers nothing less than PERFECTION! The layers of texture skillfully placed beading give this ribbon a grace, elegance and charm, that you just won't find anywhere else. I used a total of 4 rolls on this year's tree, and plan to add more next year.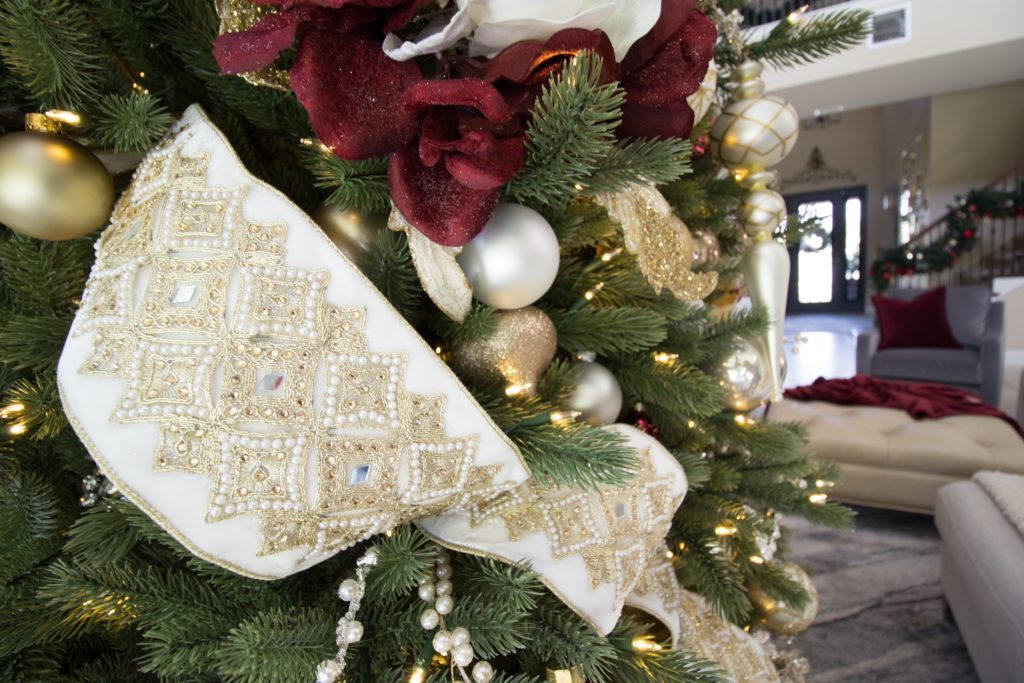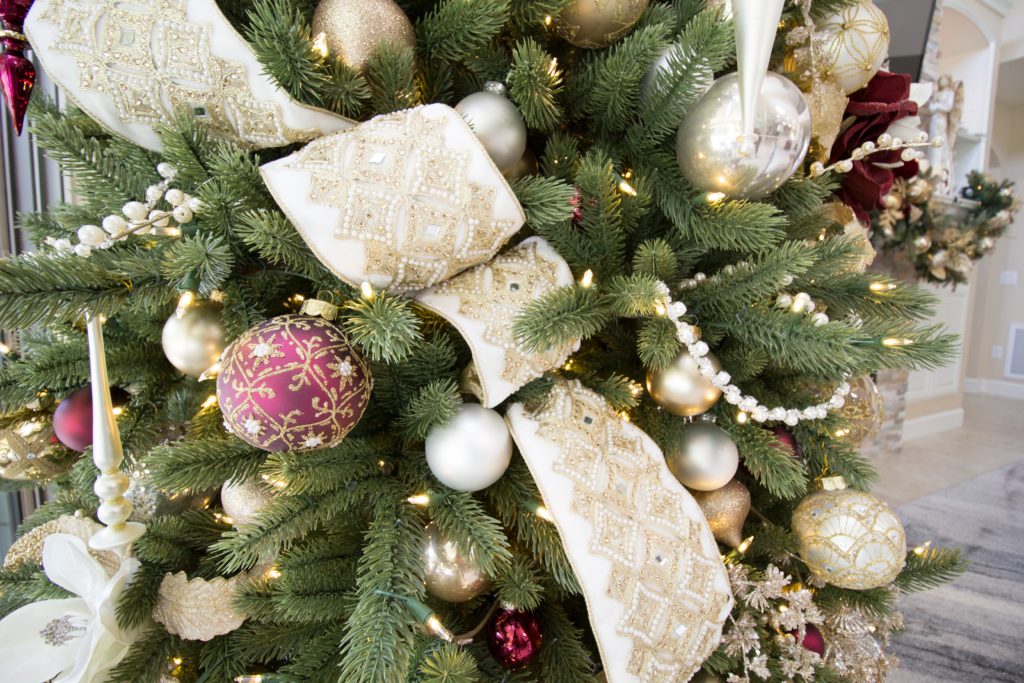 Color Block Ornaments
If you've been following me for a while, you've heard me say this before. "Color-block" your ornaments when adding them to the tree. Meaning, decorate with only one colored ornament at a time. It will help you to evenly distribute color through the tree, and avoid unwanted clusters of color.
I used the Burgundy and White Biltmore Legacy Ornaments for this year's theme, and they did NOT disappoint. I really wanted to make the tree sparkle with GRANDNESS this year, and these ornaments were the perfect fit!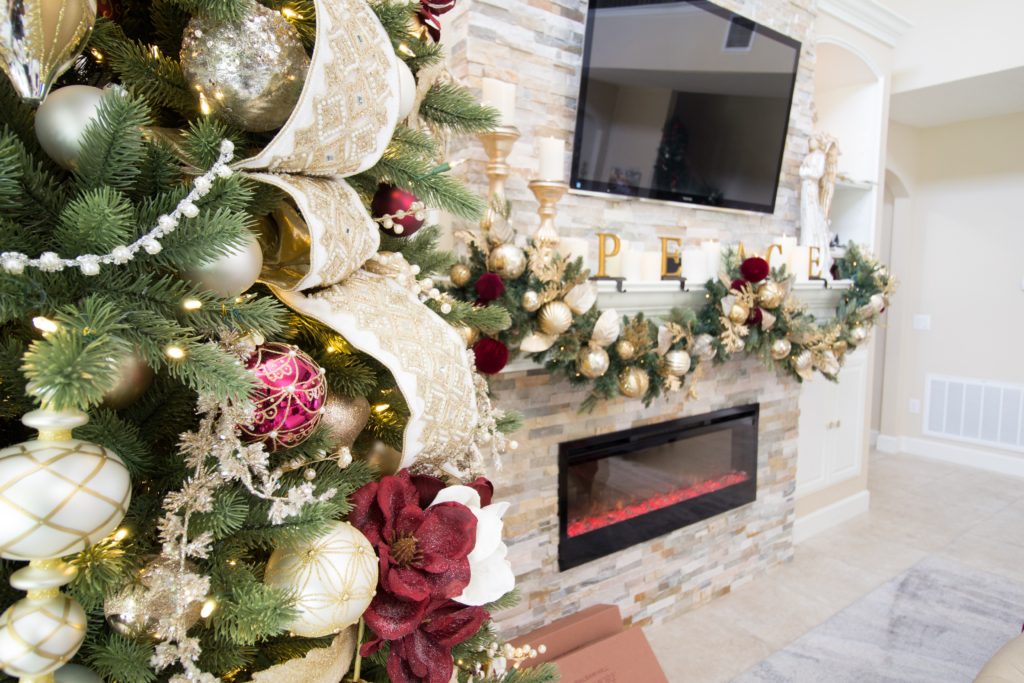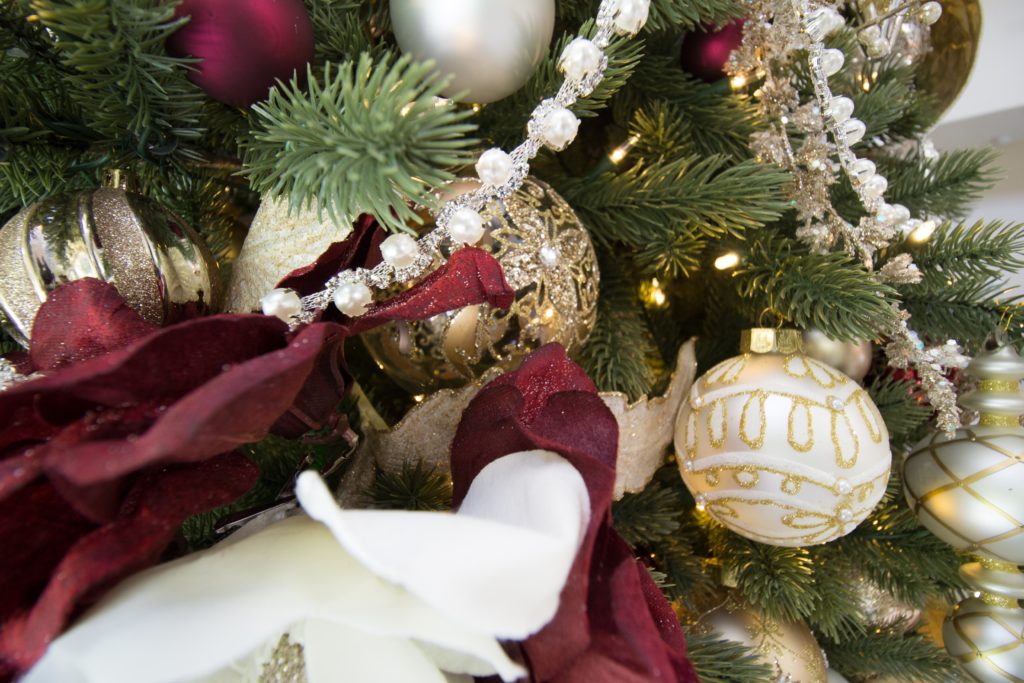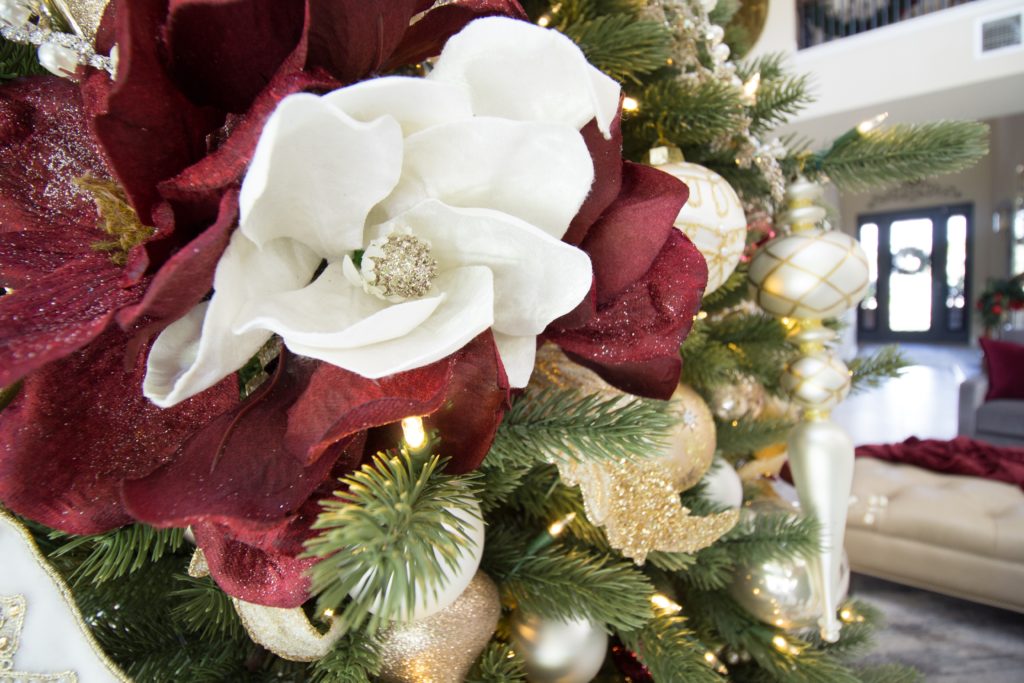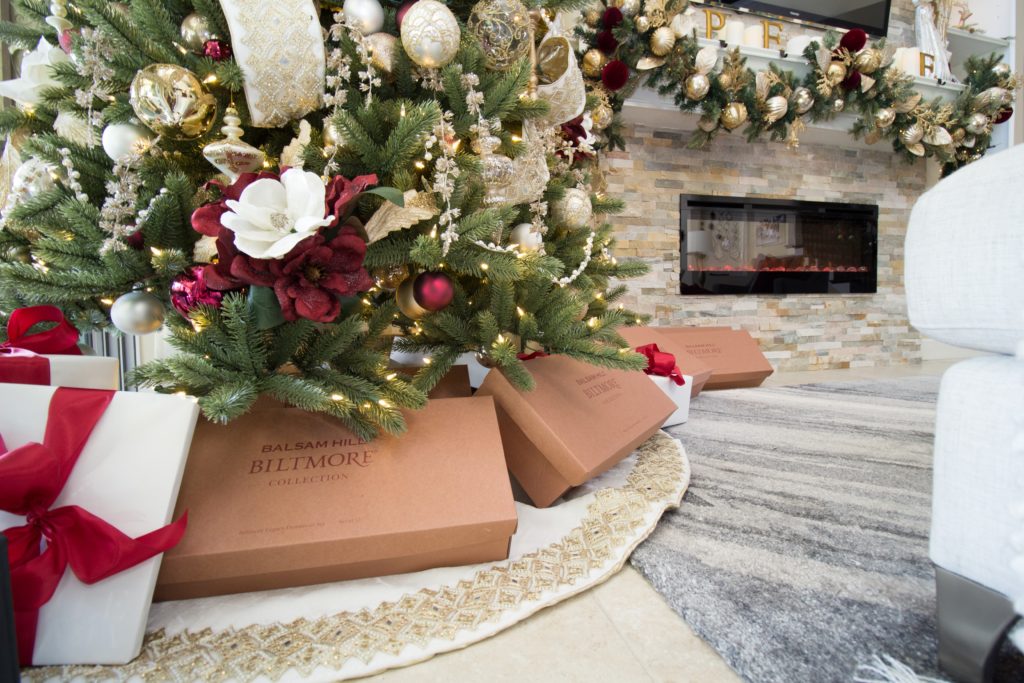 Have Fun
All of these tips are a joy for me to share with you, but at the end of it all…just have FUN! Enjoy your loved ones. Laugh…sing…and dance. Make memories and celebrate love.
For more tips and inspirational ideas, check out this video on my YouTube channel.
Until next time,
Love & peace.
GIVEAWAY RULES
This year, as a thank you, I am hosting two Giveaways during The 12 Days of Christmas. One is for a $100 Visa Gift Card, and the other (Find Ty Giveaway) is for $150.
I will select 1 winner for each Giveaway at the end of The 12 Days, and announce them here on the blog on Friday, November 22, 2019.
Here is how to play for both:
Leave a comment daily on the YouTube video, answering the question of the day, which can be found in IG stories.
Enter into the Giveaway (or Giveaways) below.
This Giveaway is in no way sponsored, or associated with Instagram Inc, YouTube, or any of the brands. By entering, entrants confirm that they are 18+ years of age, release Instagram, YouTube, and all brands of all responsibility. Contest ends on November 20th at Midnight EST. Winners will be announced on November 22nd ON THE BLOG, and have 24 hours to respond. Continental US only.
a Rafflecopter giveaway

a Rafflecopter giveaway