Hi Mellionaire House friends!
With Valentine's Day just around the corner, I thought it would be fun to do a vlog/blog series for you guys involving one of my first loves…WINE!
So, to kick things off, I've partnered up with Balsam Hill to share some of my favorite wine entertainment pieces when hosting a cozy, winter Girl's Night In.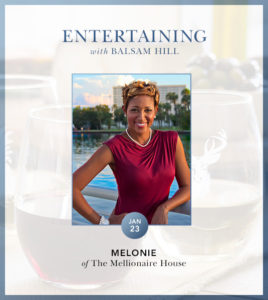 And you know what else? I got to host a very sweet friend that I'm sure some of you already know. I'm speaking of the fabulous Denise, from Be My Guest with Denise.
When I found out Denise was coming to town, I could hardly contain myself! We met almost a year ago on Instagram, but we had never had the pleasure of meeting in person. So I grabbed a couple of awesome bottles of wine, and wine entertainment pieces that I knew she would love as much as I do, and started prepping for our evening.
Denise loves a gorgeous display, so the Granite Based Tabletop Wine Opener was the perfect touch to getting the evening started. Not only is it a stunning showpiece, but it's functional and easy to use as well. It comes in both nickel or an oil-rubbed bronze finish, and can uncork and re-cork wine bottles in seconds.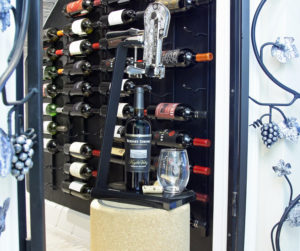 Next I grabbed some stemless wine glasses. Why stemless? I'm glad you asked. We'll talk more about stemless vs stemmed glasses later on in my series. But the short answer for today is that they always make my guest feel more comfortable when they don't have to worry about breaking the stem. I'm sharing the stag set here, but they are also available in pinecone and pineapple etching as well. Never hurts to have options for both the ladies, and the gents, right? 😉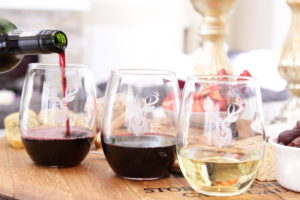 My absolute FAVORITE entertainment piece for GNI is this Wine Barrel Lazy Susan! My friends, whether you're taste testing a wine flight, or simply enjoying an assortment of cheeses and other hors d'oeuvres like we were, this piece adds just the right touch of magic to the evening. I'm sure your besties will love it just as much as Denise did.
Finally, you guys know I love my candlelight ambience. I think I had candles in almost every single room this past Christmas. But I also love to keep it safe with my squad still being so young. So I decided to display these Ombre Gold Glass Candle Holders, paired with the Miracle Flame LED candles. These candles have become an absolute FAVORITE of mine because the flames are so realistic, guests never know that the candle is flameless until I point it out. Always a fun conversation piece about halfway through a bottle of vino.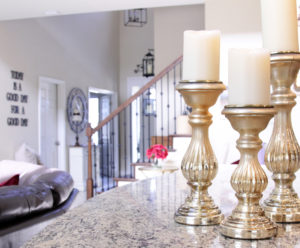 I had an amazing time meeting Denise, and I can't WAIT to see her again. If you'd like to see more of our cozy winter Girls Night In, check out the full video on YouTube. And make sure to stick around all month long for more cool entertaining ideas from these amazing ladies listed below.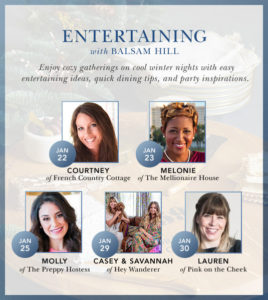 *Oh, and before I forget, Balsam Hill is hosting a contest from January 22 – January 30th, in which one winner will receive an Oil-Rubbed Bronze Granite Base Tabletop Wine Opener.  Click here for details!
I'll see you back here next week where I'll be sharing answers to my most asked questions about WINE.
Until then, cheers!
*Although this blog was sponsored by Balsam Hill, all opinions are my own.