And just like that, it's March 2021…and today, I'm sharing my Top 4 Outdoor Decor Picks from Walmart for Spring 2021.
I said to a girlfriend at lunch last week, that March 2021 felt like March 2020, but with toilet paper.
I hope that made you laugh.  But in all seriousness, when I look back over the past 12 months…wow.  Just, WOW.  Exactly one year ago, we were packing for a much needed vacation for just the two of us on a wine tour in Napa Valley.  And then the day before we were scheduled to leave, we were cancelling hotel reservations, vineyard reservations and flights, as we helplessly watched our nation shut down.  
And then, and unprecedented year of panic, uncertainty, sickness, death and an inexplicable fear.  A fear of the unknown.  A fear of what lied ahead in the future.  A fear.  And as we all experienced this newfound fear of the unknown, many of us experienced our own personal losses and challenges.  In our own family, we experienced the loss of several very close loved ones, including my father, and even over the past week, we had to say goodbye to our beloved Lola.  She was the sweetest dog I've ever known, and we all miss her dearly.  I share all of these memories, not to make you sad, but to reflect on what all we have survived…as individuals, as families, as communities, as a nation, as a world.
I am so very thankful to even be here to share this blog with you today…with healthy children on Spring Break, and new hope for a more positive year in 2021. Spring represents so many hopeful themes for so many of us. A renewal and rebirth of life, new love, hope, youth and maybe of an awakening. For me personally, it reminds me of The Resurrection of Jesus. But regardless of our beliefs, I hope that March 2021 brings you lots of sunshine, new beginnings and new glimpses of a more positive outlook on things to come.
With all of that being said, I want you to know how excited I am for what lies ahead not only in our home and with our family, but in our nation's future.  We are making plans for our home, including some practical updates to our lanai/patio area.  I hope to be announcing plans for our pool very soon!  But until then, I'm prepping our existing outdoor space to enjoy safely, as our nation and world continues to navigate through these challenging times.
So today, I'm sharing my Top 4 Outdoor Spring Decor pieces from Better Homes & Gardens at Walmart. As we continue to make our living spaces more inviting for our families, these are the pieces I wanted to share with you that made our backyard feel like an extension of our indoor living space.
Before we get started, I'd like to mention that as part of the BHG Live Better Influencer Network, each month I'll be sharing awesome tips and inspirational ideas using Better Homes & Gardens at Walmart products. I will receive compensation for my time and effort to create these posts. But as always, my opinions are my own. The convenient shopping links I will provide for you will help support the blog, at no additional cost to you. Now, let's get started!
My #1 must have Outdoor Decor Piece is the Better Homes and Gardens Delahey Outdoor Daybed Sofa.  I absolutely love this piece because of it's versatility.  Not only can it be used as a sofa, but the sides let down for the perfect poolside or backyard afternoon nap.  I've already taken a nap on this piece…twice…and Theo joined me on one of them.  It was a perfect snuggle-fest for both of us, and a stylish addition to our outdoor space.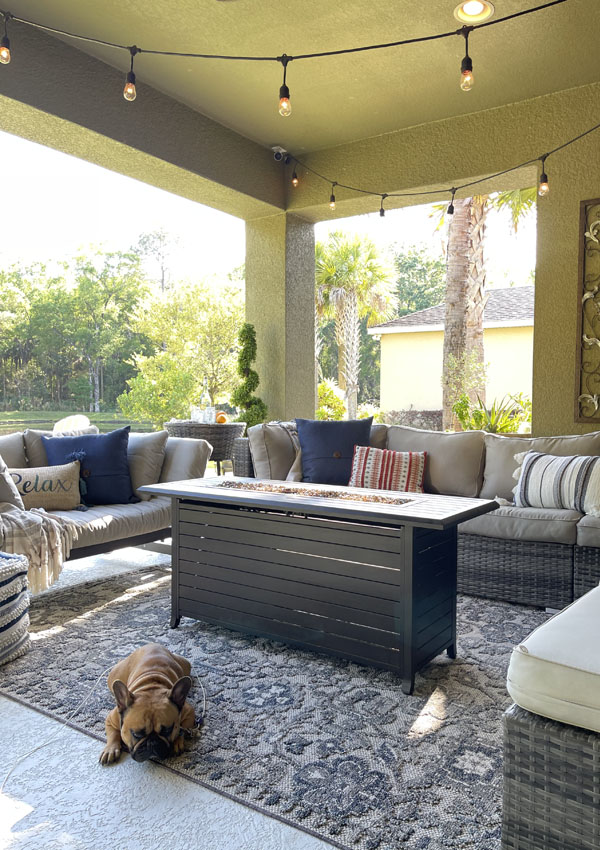 My #2 must have Outdoor Decor Piece/s are some new throw pillows for your new or existing outdoor furniture.  I fell in love with this "Relax" lumbar pillow because of it's vibrant colors and versatile style.  Make sure you check out my YouTube video for a full tour of all the Better Homes & Gardens at Walmart pillow selections from my local store.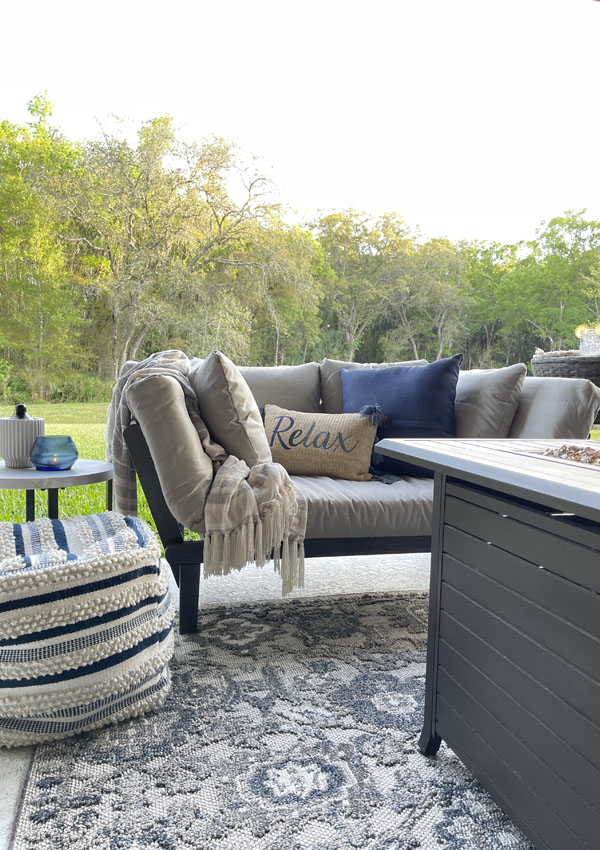 My #3 must have Outdoor Decor Piece is an outdoor fire pit.  Regardless of if you choose a propane gas firepit, or a wood burning fire pit, they add a wonderful ambience for gatherings on those warm spring and summer holiday evenings with fireworks and s'mores.  We have had this Better Homes & Gardens Carter Hills 57" Gas Fire Pit for sevreral years, and it's still going strong.  Definitely one of my all time favorite pieces for outdoor decor.
My #4 must have Outdoor Decor Spring Decor Piece is this Faux Marble Side Table.  Not only does it offer a sleek retro look to your outdoor design, but it is also designed to weather the elements of all the seasons.  It helps to easily transform your outdoor living space into one that looks like a seamless extension of what's inside your home.
So as you can see, just a few simple tweaks can transform your outdoor space into one that your family can enjoy safely all season long. For a full tour, please click here to check out my YouTube video.
I pray that you continue to be safe and happy during these times.
Until next time,
Love & peace