Hello everyone, and thanks for stopping by the blog!  Today I'm sharing some ideas on Elevating the Everyday rooms we use in our homes.  However, before we begin, let me start by saying that it's my birthday month!  And yes, I'm one of "those people" who tend to celebrate their birthday all month long.  Why not, right?  Especially after the year we just came out of…I think we should celebrate every moment we can.  So, I'm doing just a little extra for myself this month…including a some jewelry shopping, a new haircut and maybe even a solo trip to the beach…my ultimate zen zone.
Okay, okay…enough about me.  We're here to talk about our homes, right?  Well, today I'm sharing how I elevated an everyday room with Better Homes & Gardens at Walmart.  Most of you may not even know which room is our "everyday room."  That's because I don't share it very often.  It really is a space that is dedicated to all of the kids' games/movies/toys…their playroom, if you will.  But as the kids get older, the space has become less of a playroom and more of a "game room" for all of us…even the adults.  I've been slowly but surely clearing out all of the toys that have been banned to the land of misfits, and I started to notice that we needed to freshen the room up.  It was time to Elevate the Everyday!  And I did just that, on a budget, with my friends at Better Homes & Gardens at Walmart.
Before we get started, I'd like to mention that as part of the BHG Live Better Influencer Network, each month I'll be sharing awesome tips and inspirational ideas using Better Homes & Gardens at Walmart products. I will receive compensation for my time and effort to create these posts. But as always, my opinions are my own. The convenient shopping links I will provide for you will help support the blog, at no additional cost to you. Now, let's get started!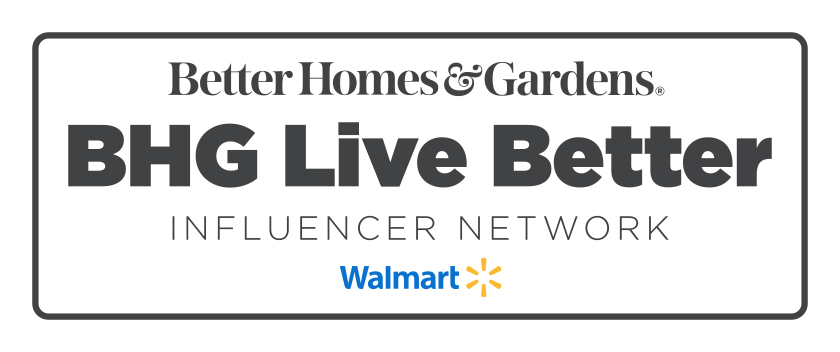 Let me share a quick before picture to refresh your memory, or let you see the space for the first time. We had a pretty large air hockey/pool table in the center of the room, and we used the largest wall to screen movies with our projector. We keep an older brown sofa that is still in decent shape on the shorter wall, and had a game table near the window. We definitely needed more seating. So that's where I decided to get started. I added more seating!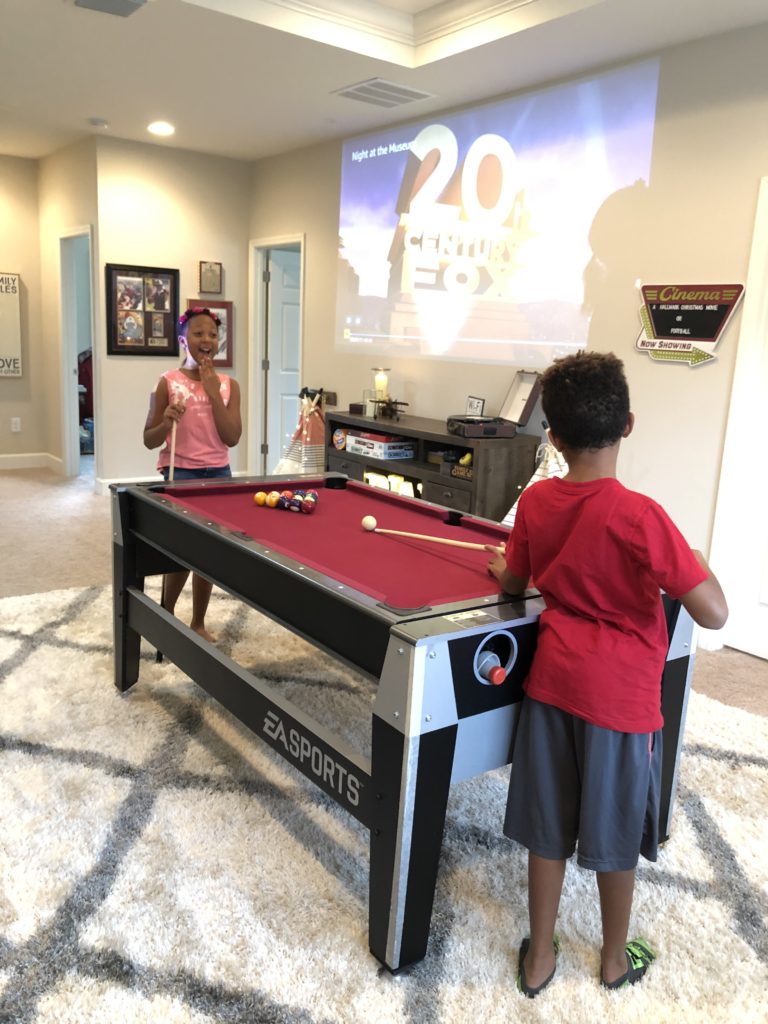 First I needed to move the giant table out of the center of the room, and get rid of the huge area rug.  I moved that area rug into the room years ago when we got a new area rug downstairs.  But it really threw everything off from a scale perspective, and none of the space felt grounded.  I added two of the Better Homes and Gardens Mid-Century Wood Chairs with Linen Upholstery, in Gray.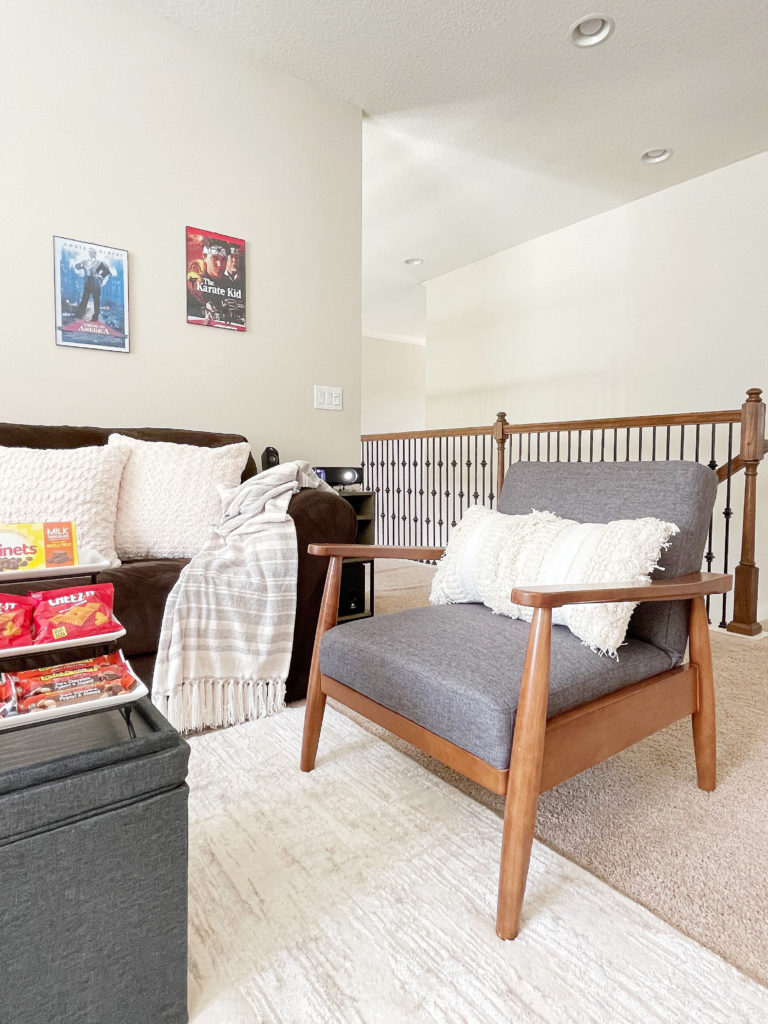 Not only do these chairs offer a classic and stylish design, my favorite part is that they recline!  Perfect for those evenings when I want to grab a book, lay back and chill.  And I loved the Better Homes & Gardens High Low Abstract Polypropylene Indoor Area Rug in my foyer so much, I added another one in the Game Room to ground the space.  I really like the two-tone color and subtle sheen.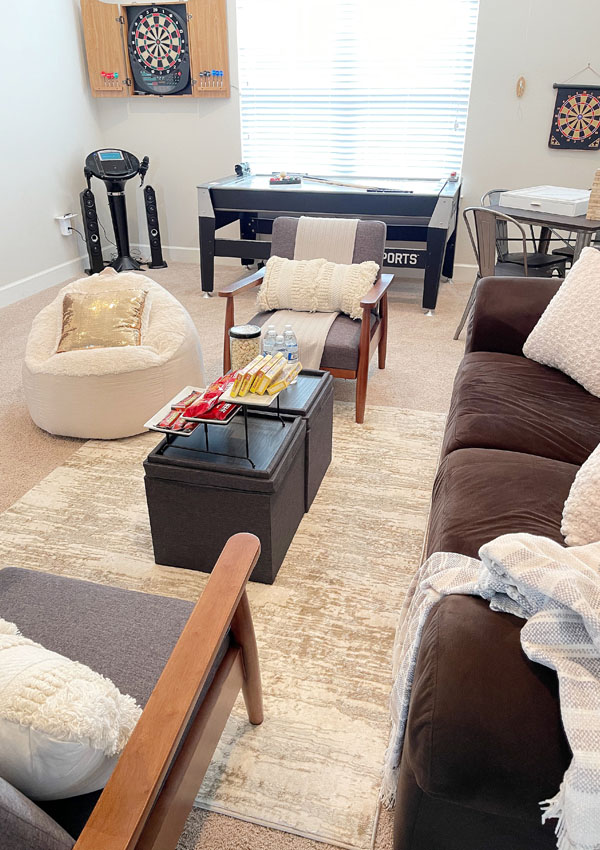 I styled the new chairs with these super cute Better Homes & Gardens Natural Fringe & Textured Oversized Oblong Decorative Throw Pillows, in Ivory.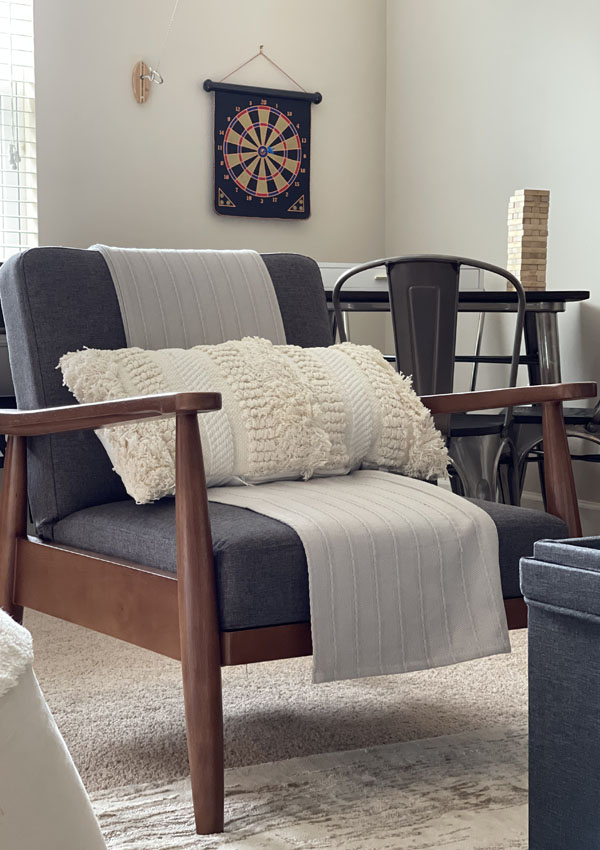 For the center of the space, I used two of the Better Homes & Gardens Storage Ottoman with Trays.  They are so versatile!  They can be used for extra storage, extra seating…or to hold all of our movie night snacks.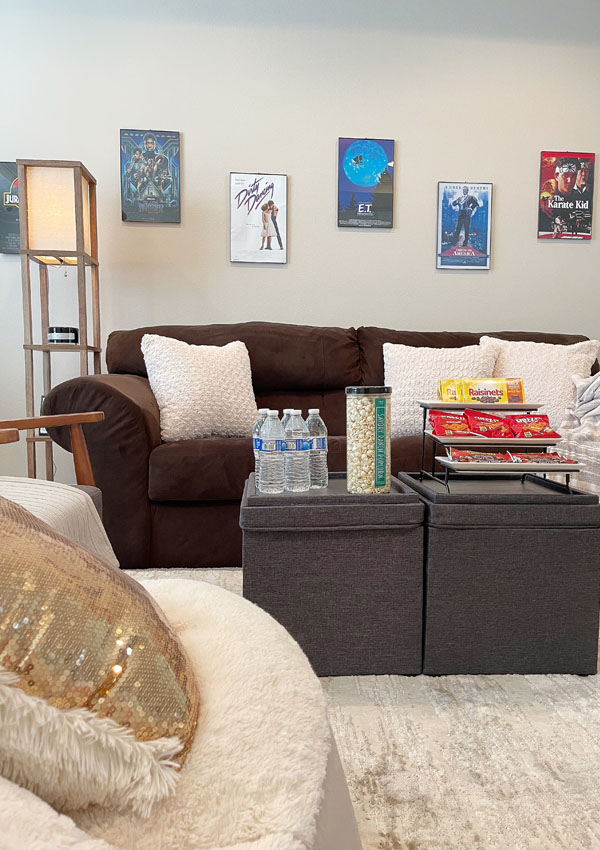 For added mood lighting, I thought the Better Homes and Gardens Crossmill Shelf Floor Lamp complemented the nod to modern design just perfectly.  And that was really it!  I think this subtle changes made a huge impact.  As you can see, only a couple of added pieces really transformed our Game Room into one that works much better for our entire family.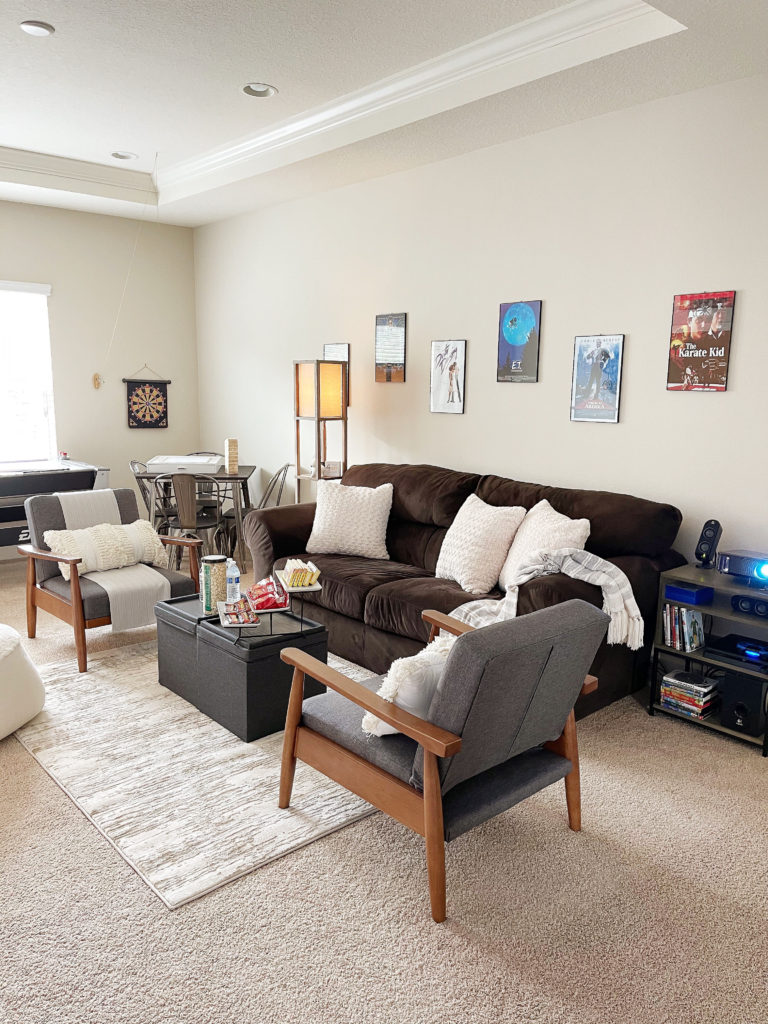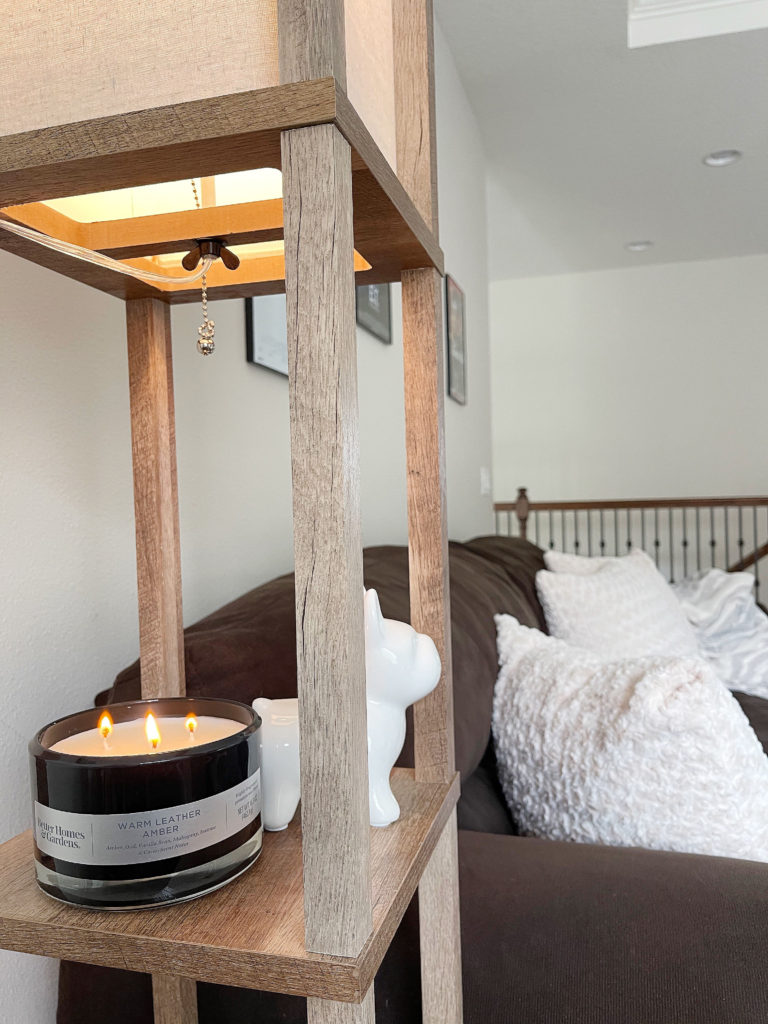 I hope you got some great ideas today, and that you leave feeling inspired!  Thank you again for stoping by.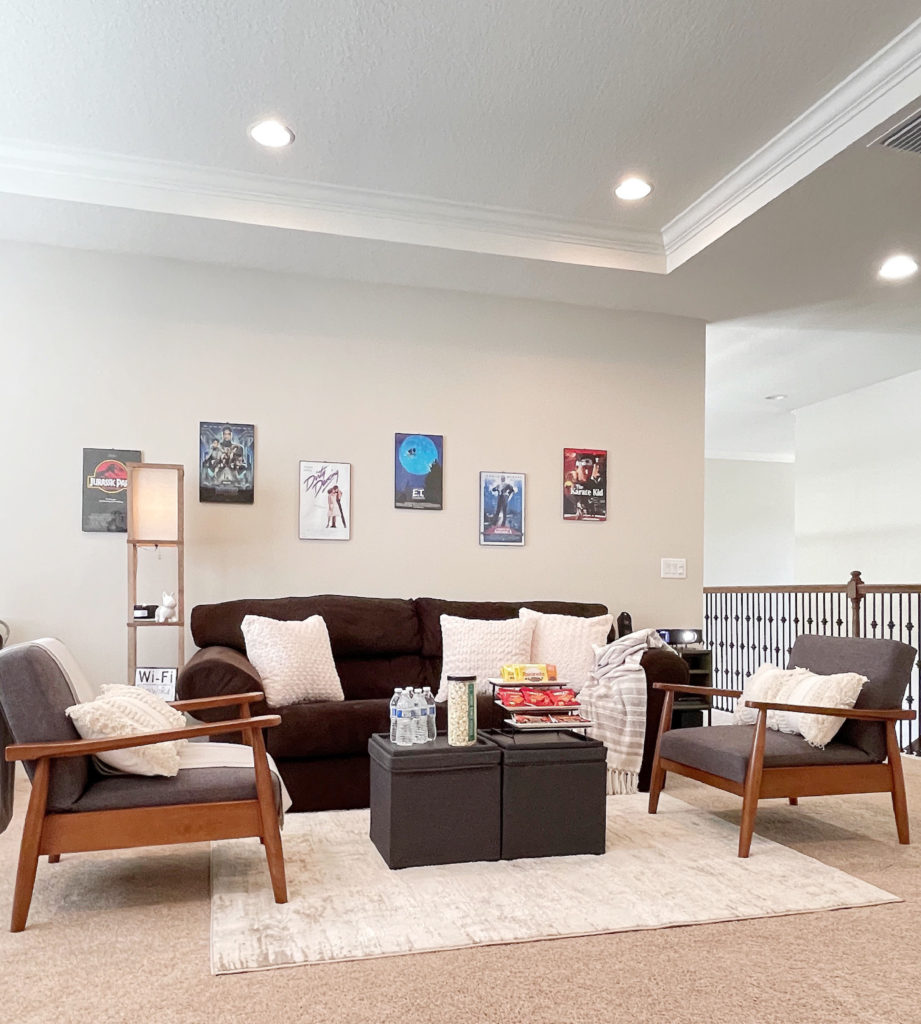 As always,
Love & peace