Hello everyone, and thanks for stopping by.  Today I'm sharing a few tips on How To Transform A Bedroom Into A Winter Wonderland with just a few simple steps.  These tips are fun, affordable and easy to implement, and they work great whether you are transforming a guest room or even a child's room!  And with everything being so uncertain during these times, how nice would it be to have a magical room to get a good, cozy night's sleep in?  So let's get started, and have a little fun while decking the halls.
But first…This blog post is sponsored by Better Homes & Gardens at Walmart.  As part of the BHG Live Better Influencer Network, I am privileged to share awesome tips and inspirational ideas using Better Homes & Gardens at Walmart products.  I will receive compensation for my time and effort to create these posts.  But as always, my opinions are my own.  The convenient shopping links I will provide for you will help support the blog, at no additional cost to you. Thank you for your support!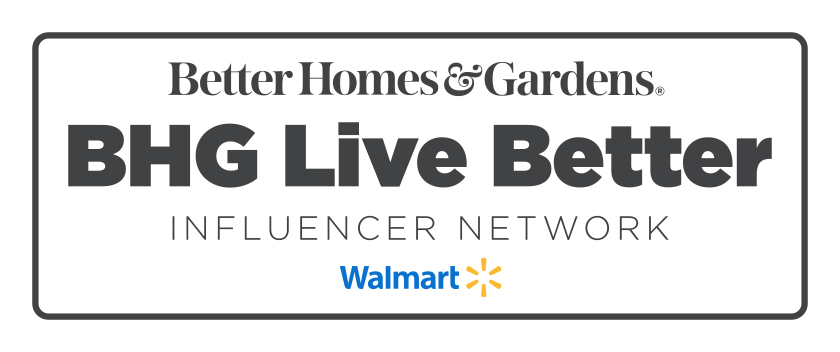 Tip #1 – Add Festive Linens
No matter what your color scheme is for the holidays this year, the easiest way to transform a bedroom into a winter wonderland is to start with adding festive linens. This year I'm LOVING the traditional reds. But red can quickly begin to feel "overpowering" in a small space. So let me share how you can make it work.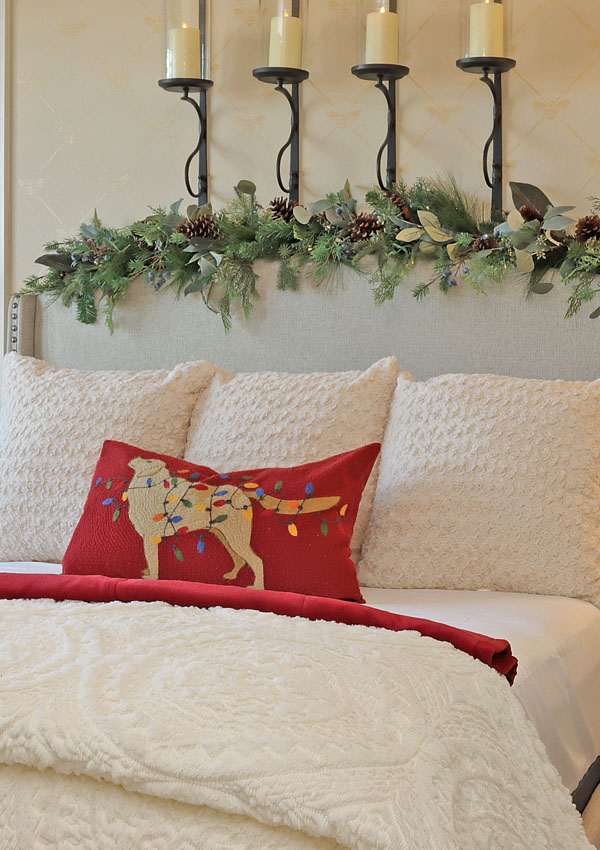 I started by adding this crisp white Better Homes & Gardens 400 Thread-Count Hygro Cotton Performance Bedding Sheet Set.  I love these sheets for any room in our home because they feature high-performance, temperature-regulating Hygro Cotton that keeps you cool in the summer and warm in the winter.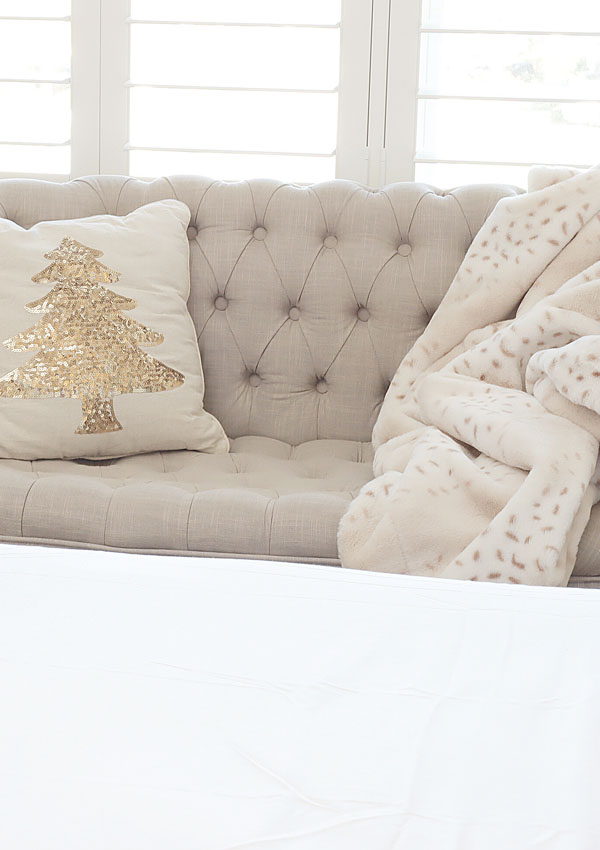 Next, I paired the sheets with this incredibly soft Better Homes & Gardens Embroidered Faux Fur 3-Piece Comforter Set, in Ivory.  The pattern is noticeable, yet still elegant, and can transform easily into the winter months without having to update the bedding again right after the holidays.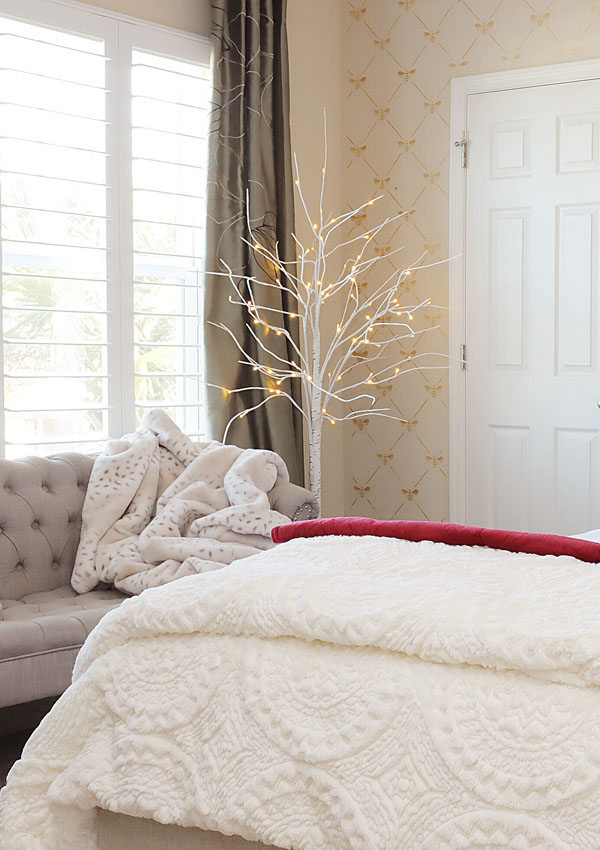 To sprinkle in just a touch of red, I added this light and airy Better Homes & Garden Cloud Throw in Red.  It's hypoallergenic and added just the right amount of coziness to the bed.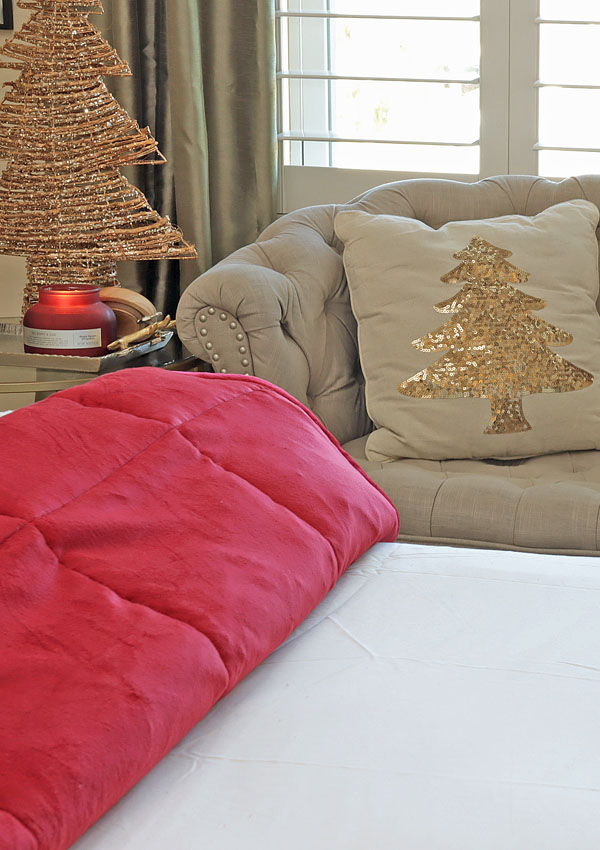 Tip #2 – Add Garland
Whether is safely added to your headboard, or perhaps over a dresser, adding garland always adds an unexpected touch of holiday "wow" in a bedroom.  In addition to adding garland to the headboard, I also updated the farmhouse style mirrors I had in this room with these Better Homes & Gardens Black Metal Windowpane Wall Mirrors.  They are easy to install, and a much better representation of my current style preferences.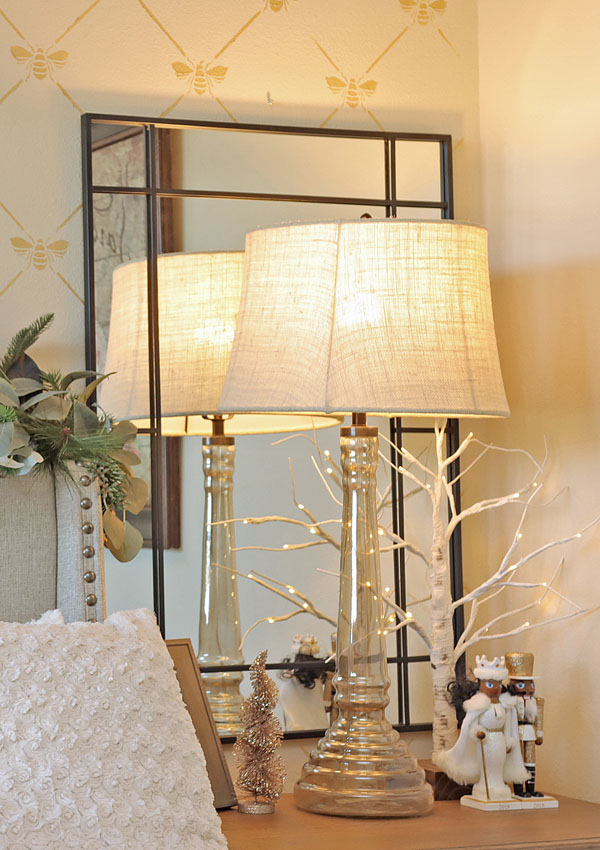 Tip #3 – Lightly Style Your Nightstand
You will rarely, if ever, hear me say that "less is more" when it comes to holiday stying. But when it comes to a bedside table, it really is important to keep it as clutter free as possible. Other than a lamp, a favorite family holiday photo, and maybe one other holiday decor item, and don't suggest adding any more than that. Remember, clutter-free bedside tables add to a relaxing atmosphere.
Tip #4 – Add A Festive Holiday Fragrance
What do the holidays smell like to you?  Does it smell like Cut Frasier…or Pumpkin Pie…maybe a Winter Berry, or a soft vanilla?  I honestly think of all of those scents when I think about the holidays.  But I HAVE to tell you about the ONE scent that has completely won me over this year! It's the Better Homes & Gardens Red Berry & Oak 18oz Scented 2-wick Candle.  O…M…GEEEEE!  You guys heard me raving about it on my YouTube channel.  This candle smells like all things Christmas to me, and I highly recommend you try it.  It makes for a GREAT Teacher's gift too.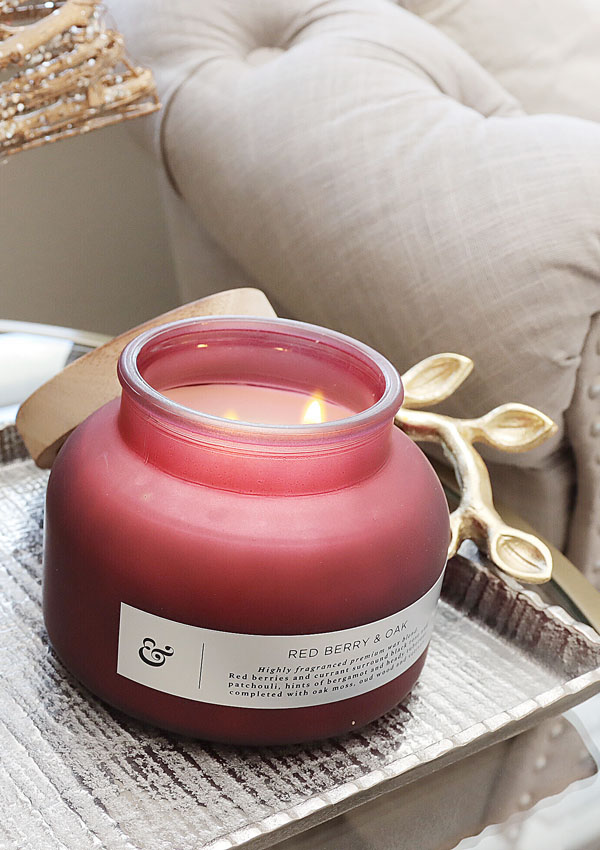 So whether you use a candle, a wax warmer or even a wall plug in, don't forget to incorporate the scents of the season into your winter wonderland.
That's it for now.  I hope you have fun decking those bedroom halls.  Stay safe, and love on your family members.
Until next time,
Love & peace