Over the past year, I've definitely learned how to appreciate each and every space in our home more and more. Whether it's an indoor space or outdoor space, the comfort of "home" has never felt so good! It feels safe…it feels secure…like a hot cup of coffee on an easy Sunday morning. I'm sure you know what I mean. And with Spring in the air, I thought I'd share one of my favorite outdoor activities in hopes to inspire you to get outside and enjoy the season.
But before I share the purchase details, I would like to share some backstory. One of the things I've learned to enjoy the MOST over the past year, is mindfulness. Mindfulness is a type of meditation that helps you focus intensely on where you are in a moment. I was first introduced to "mindfulness" years ago, on a corporate trip. One of my managers was giving a "pep-talk"…it was like a Ted-Talk before that was a thing. ;-). But first, a little more backstory.
I was on a sales team that was considered to be "the best of the best." This "Special Ops" team was required to fly in to a struggling territory each month, and spend a week in the car together. We were on the road for about 12 hours each day, with another "Special Ops" team member we had never met. Together, we visited customers we didn't know, to save the business our company was losing. Sounds CRAZY, right? Well, it was. The hours were long, the customer challenges were large, and the time toll was…impossible to pay back. Now, don't get me wrong…we made INCREDIBLY GOOD money, we got to travel all around the country and see new places, we stayed in amazing hotels…ate at 5 star restaurants. We had a lot of fun, and we learned about how to engage with people we didn't know. But the downside for those of us who had families, was missing out on those irreplaceable moments we can never get back. The first words of a baby in the family, first fruits of a newly planted tree in the back yard, birthday parties of friends, summer s'mores with the kids…you get the idea. We missed a lot. And that meant that sometimes it was hard to focus on what we were there to do.
I had this one manager, who taught me a lesson during those times that I will NEVER forget. We were in a sales meeting, one early Monday morning…I remember it still being dark outside of the conference room window. The manager opened up with the usual "pep-talk" motivational speech to get us all pumped up and excited about the day ahead… "you're here because you are the best"…"you're in control of customer loyalty"… "you see the Big Picture"… "our company needs YOU." But, on that particular morning, for whatever reason, none of his motivational words seemed to be resonating with any of us. Business was VERY tough at the time…the economy was struggling…and the "Special Ops" team, was tired. I guess that manager could look at our faces and see that we weren't hearing ANY of the motivational talk that he was trying to give to us that early Monday morning. So, for a brief moment, he stepped outside of his managerial lane, and said something that I would NEVER forget. He said…"if you can't do anything else today, I need for you to BE WHERE YOU ARE. When you're in the car, with your teammate, BE THERE. When you are sitting in front of a customer listening to them complain, BE THERE. And when you are on the phone tonight, talking to your family while they are getting ready for bed, BE THERE. Turn off your computer…silence your phones…and BE WHERE YOU ARE."
To this day, out of all the extensive training I received in my corporate career, that ONE sentence was the one that resonated with me the most. "BE WHERE YOU ARE." And over the past year, it has truly helped me to appreciate the practice of "mindfulness" like never before. Settling in…breathing…focusing…and being "mindful" of what is around you.
I shared that story to share the importance of taking the time to be "aware" of what is around you at the time. It has become an active practice for me. I take 10 to 15 minutes a day, I'm my favorite spot, and I actively practice "mindfulness." It has become a favorite Outdoor Activity of mine. So I'm going to share a few simple tips on how I create the most important part of my day.
Step 1 – Put Down Your Phone
Your phone is the most stimulating thing around you. Set a few minutes each day, to put it out of reach. Don't hold it…don't hear it…don't see it. And take notice of what happens when you do.
Step 2 – Find A Mindful Moment Space to Breathe
Whether it's in your closet, in your bed or in your car…find a space that you can take a moment to just BREATHE.  For me, it's on my lanai in our back yard.  Our back yard is located on a nature preserve.  So there is always beautiful wildlife and activity to take in and enjoy.  It can actually be a distraction to the practice of mindfulness, but that's what makes it the perfect spot.  I have to PURPOSELY "be where I am."  I recently added the Better Homes & Gardens Lantis Patio Wicker Hanging Chair with Stand and Blue Cushion, to help me to enjoy a few daily moments of mindfulness.  This chair creates a deeply cushioned, oversized cocoon of comfort.  It allows me to close my eyes, sway peacefully, and to be mindful of the air…my breathing…and the atmosphere.  During those 10 minutes, it's the only thing I think about.  The Better Homes & Gardens Lantis Patio Wicker Hanging Chair is a very easy DIY Project. So don't get overwhelmed by its size. I DIY'd the assembly all by myself, and it only took be about 45 minutes. The chair comes to really good step-by-step instructions, and this DIY requires minimal tools.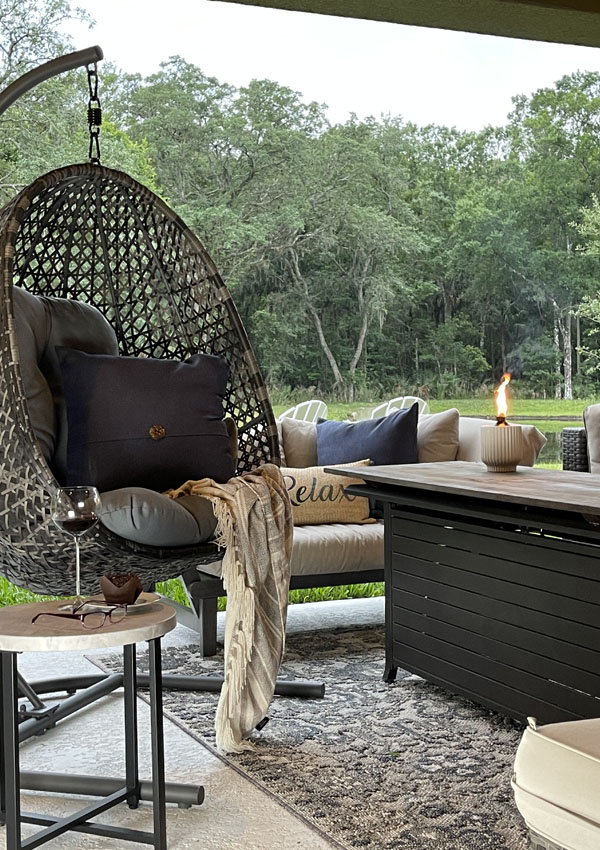 Step 3 – Understand Your Need for Self Care
Whether it's taking a few mindful moments alone, or spending time with loved ones safely, I think it's important to understand that needs of what your own self-care looks like. We often prioritize the needs of others before the needs of ourselves. Even though it may seem easier to say "yes," sometimes it's healthier to just say "no," and to take a few moments to breathe, and be mindful.
Thank you for taking the time to read this blog today. As always, Love & Peace.
I'd like to mention that as part of the BHG Live Better Influencer Network, each month I'll be sharing awesome tips and inspirational ideas using Better Homes & Gardens at Walmart products. I will receive compensation for my time and effort to create these posts. But as always, my opinions are my own. The convenient shopping links I will provide for you will help support the blog, at no additional cost to you.