Hello everyone, and thanks for stopping by! So many of you have reached out to check in on me, and I cannot tell you how much I appreciate your thoughts and kind words. And, yes, I HAVE been MIA…but with very good reason. And in today's blog, I'll be "turning the tables," and sharing just a little bit about where I've been.
Before we get into all of my personal stuff, I wanted to take a moment to share my 2021 Summer Table Style in our kitchen.  After all, I know that's why you're here.  :-). As most of you know, I have the privilege and honor or being a BHG StyleMaker.  Collaborating in this role has been a dream come true for the past couple of years.  As part of the BHG Live Better Influencer Network, each month I share awesome tips and inspirational ideas using Better Homes & Gardens at Walmart products.  I receive compensation for my time and effort to create these posts.  But as always, my opinions are my own.  The convenient shopping links I provide for you will help support the blog, at no additional cost to you.  So today I'm sharing my favorite BHG Dinnerware & Barware pieces to style the table for summer.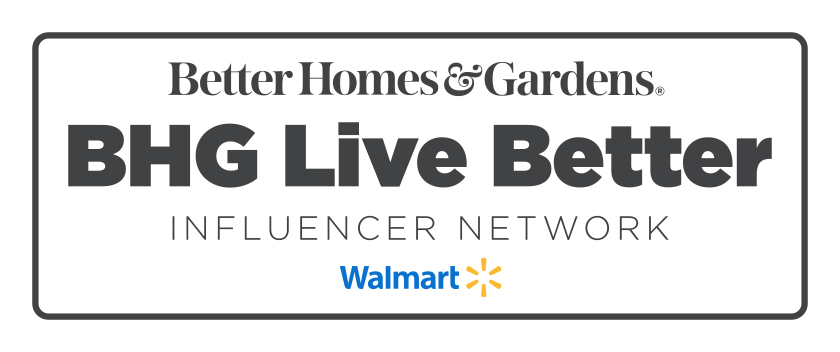 To stay on trend for the Summer of 2021, I incorporated moody summer blues and lots of varying textures to achieve that perfect Florida summer vibe.  And here's an insider BHG StyleMaker tip…texture can include both visual and/or tactile surface characteristics.  What that means is that your styling objects can either include different shapes or colors (visual), or different textures that actually "feel" like they look (tactile)…and if nothing else, they make you want to take a closer look to really understand how it all comes together.  Let me show you what I mean.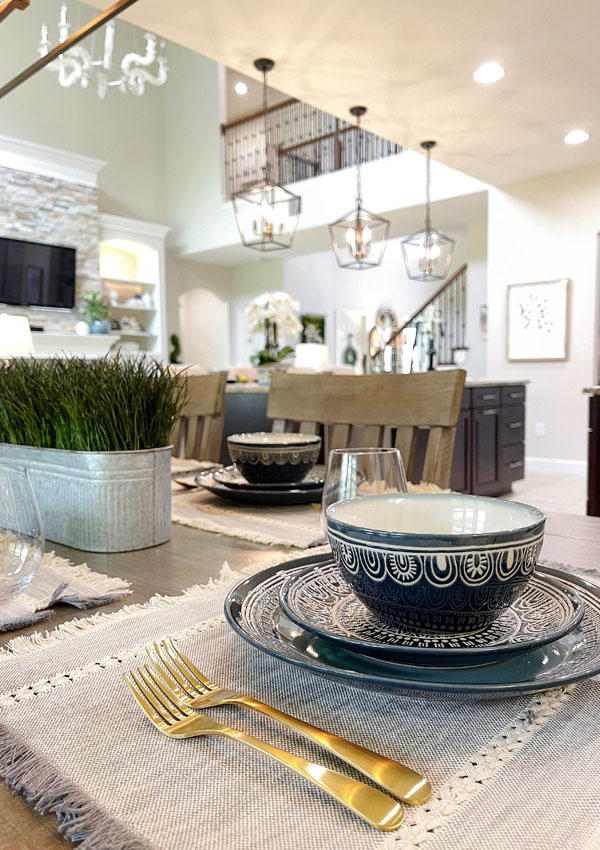 Let's start with the basics…the dinnerware.  I feel like dinnerware is always the easiest place to start because you can use it to make everyday tables look really amazing.  This summer I used the Better Homes & Gardens Teal Medallion 12-Piece Dinnerware Set in a gorgeous smoky teal.  Not only is each piece stunningly detailed, but they are also microwave safe, which is always a HUGE plus in our home.  The set comes with 4 dinner plates, salad plates and soup/salad bowls.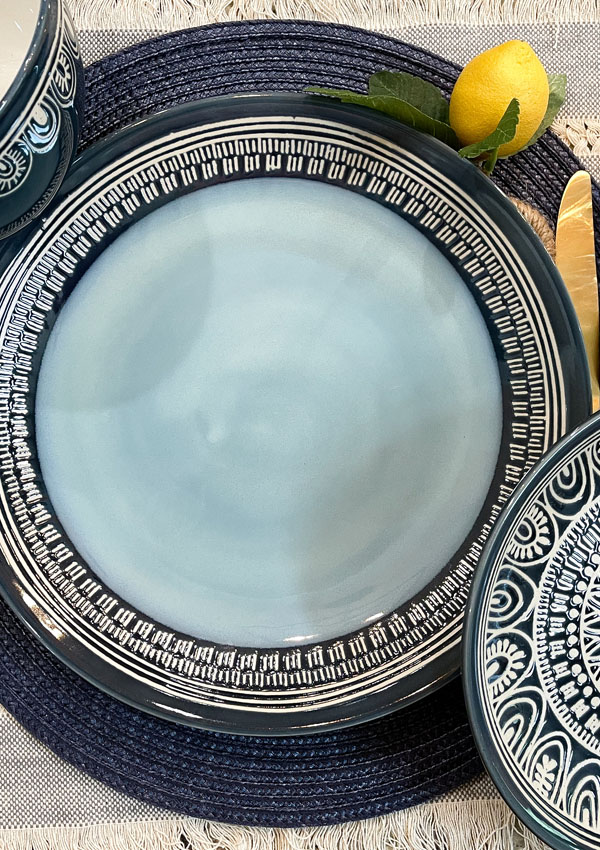 Next I added some show stopping flatware with the Better Homes & Gardens 20 Piece Arlo Flatware Set with Matte Finish.  I've always had a thing for gold flatware, and I love how it complimented the summer vibe this year.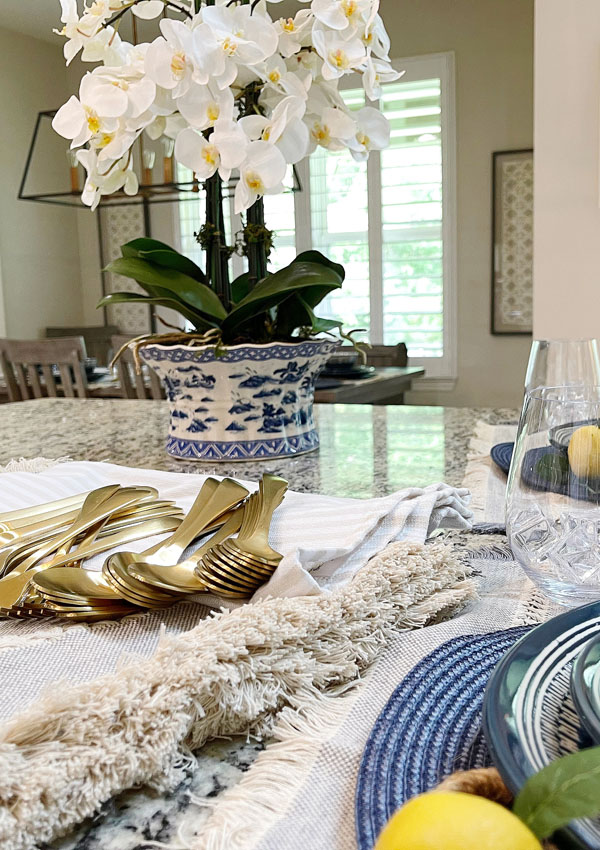 Now, under your flatware and dinnerware, you'll want to anchor it somehow.  I usually do this with either placemats, a table runner, a charger…or a combination of all three.  The Better Homes & Gardens at Walmart Gray Fringe placemats you see here were really perfect because the fringe and striped combination packed a lot of "texture punch" both visually and texturally.  They come in packs of 4, and I have enough to set my dining table and kitchen nook table for those big summer family cook outs (finally!).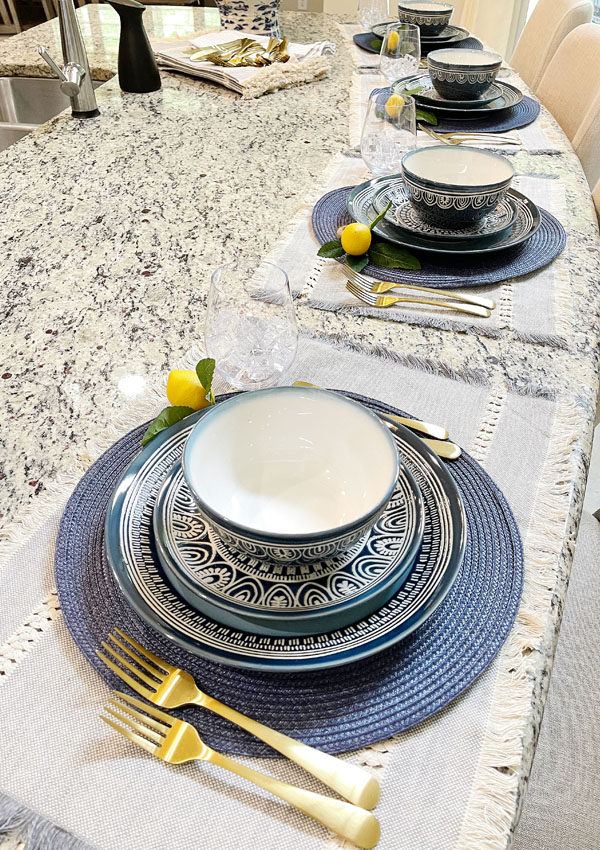 And let me show you the new Better Homes & Gardens stemless wine glasses!  I'm so excited about these because they are so versatile!  Not only can you use them for wine, but I serve regular beverages in them as well.  And they are shatterproof, so they can safely be added to style an indoor or outdoor table, which is optimal when the summer gatherings run long and you want to take the party outside for s'mores and fireworks!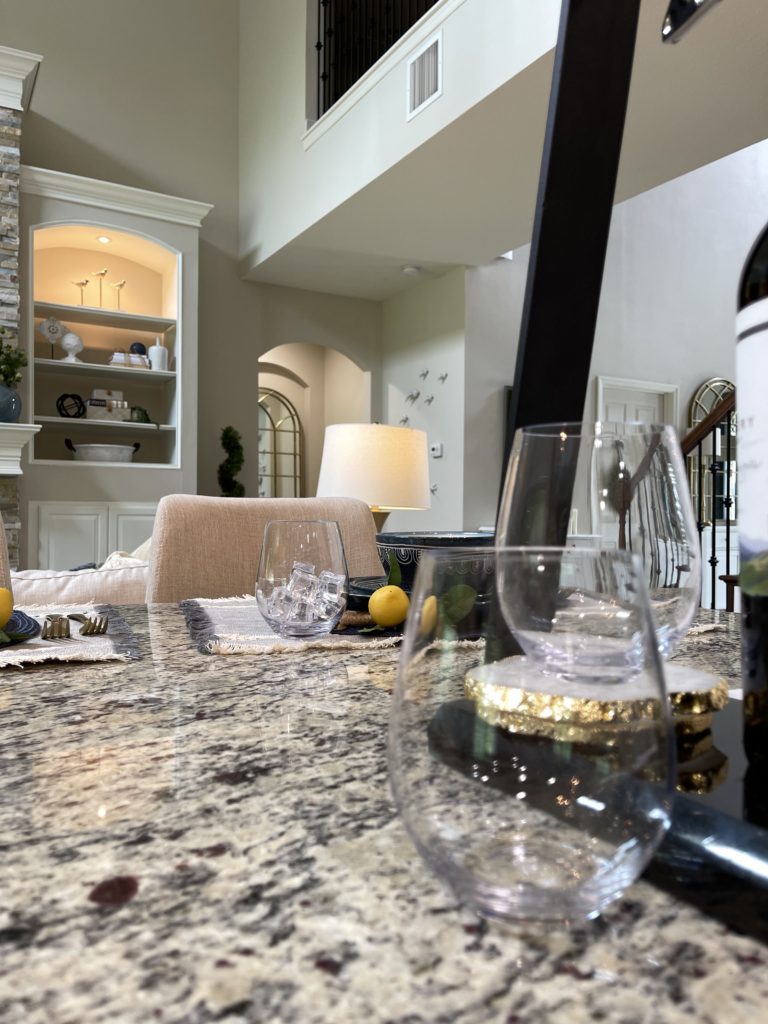 See how beautifully everything came together by just using one main color, and varying textures? I hope you got some great ideas today! Now, before I go, please allow me to address my absence. Let me start by saying that we are all healthy and happy! The twins are enjoying the beginning of their summer, Prima started her first job, and I've been working on quite the project for Ben Buttons (reveal coming VERY soon). HOWEVER, I have been going through a lot in both my personal and professional lives. And while I am truly not ready to share all of the details just yet, please know that what I'm working on professionally is going to be really inspiring for both me AND you! And I believe that what I'm dealing with personally with truly make my testimony help someone in the future. That's about all I can share for now.
Please stop by my YouTube channel next week…I have a pretty awesome reveal to share with all of you.
Until then,
Love & peace