Hi Guys,
I cannot BELIEVE that it's already February! I have to say, it's my favorite month of them all. Not only do we celebrate Black history, and love…but it's my BIRTHDAY month too!
Speaking of love, Rodney Strong Vineyards sent me some amazing wines to share with you, just in time for Valentine's Day! Although they sent the wines to me for free, all opinions are my own. 😉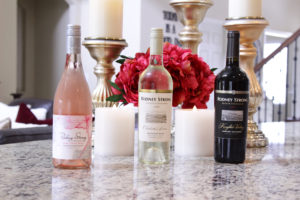 (See entire video here!)
If you follow me on Instagram, then you've probably seen the hubs and me cooking it up in the kitchen LIVE on Sundays. One of the recipes we get asked most about, is the filet mignon he prepares for me (just perfectly, I might add) in a cast iron skillet. I'm sharing it with you below, but first, let's talk a little about these wines!
Before I begin, let me just say that at the end of the day, you should really just enjoy whatever types of wine you like, with whichever types of foods you like. I just made some sommelier CRINGE, but it's just how I feel about it. However, if you are looking to enhance your dining experience with a whole new world of flavor and delight, consider the following:
1. Rose Loves Appetizers
Rose is the perfect combination of the light and airy components of white wine, with the fruity components of red wine. That means it pairs well the many different types of food flavors and textures, like what you'd get in an appetizer.
The Rodney Strong 2017 Rose of Pinot Noir is a beautifully colored, fresh and vibrant Rose, offering hints of white peach, strawberries and jasmine. Try it with goat cheese, a summer salad or a seafood dish.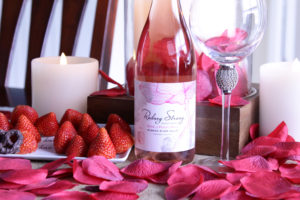 2. Acid Loves Acid
If you are enjoying foods with a high acidity level, like something you'd squeeze lemon juice on, try pairing it with a wine with high acidic levels as well.
The Rodney Strong 2016 Charlotte's Home Sauvignon Blanc, named for his wife, is a wonderfully crisp, fresh and bright option. If offers a lovely balance and aroma that is sure to please on a warm summer day. Try it with your favorite seafood dish, like the grilled Salmon you see here.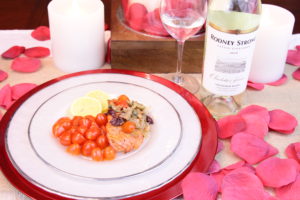 3. Tannins Love Fat
Foods with high fat contents like certain cuts of steak, leg of lamb or duck, pair well with a bolder red wine. And here's a little secret that you may not know…sprinkle a touch of sea salt on top of your favorite dark chocolate, take a bite, and then take a sip of your favorite dry red…YOU'RE WELCOME!
The Rodney Strong 2014 Knight's Valley Cabernet Sauvignon is just bursting with romantic aromas of spicy dark plum, crushed blackberries and wild raspberry. You'll find some hints of dark chocolate on the back end of it as well, and very rich, velvety tannins, with a nice long finish. It's probably my favorite production from the Strong Vineyard, but hey, I'm a cab girl at heart.
And now, for the moment you've ALL been waiting for…
Cast Iron Skillet Filet Mignon (We remove the thyme from this recipe, and add blue cheese crumbles on top at the end.)
Grilled Salmon Marinade (We eyeball most of this)
Half finely chopped shallot
2TSP Finely chopped ginger
2TSP Finely chopped garlic
Olive Oil
Kosher Salt
Ground Pepper
Lemon Zest
1TSP Red Wine Vinegar
1TSP Dijon Mustard
Marinade for 30-60 mins
Grill on soaked cedar planks on direct medium heat
Have a wonderful Valentine's Day…Love and peace!