This blog is sponsored by Better Homes & Gardens at Walmart.
With everything going on in the world today, I've found it difficult to find a quiet moment for myself.  The children are all here, and they can't really go anywhere but our backyard to play.  My husband is working from home for the first time ever.  I will just say that that has its own set of challenges too.  And the kids seem to have no understanding of what a "Do Not Disturb" sign on my office door means.  I am constantly interrupted, including text messages from the kids when I make a grocery store run that read, "Mommy, can you please tell Preston that it's MY TURN to choose the next snack for us?!"  Sidenote…why do they have to have THE SAME snack?  While it has been nice to experience a more traditional form of "togetherness," it has also been challenging to feel like I have no where to go for a moment to myself…just to breathe.
I started to feel very overwhelmed, and even a little sad.  I think for myself, I didn't realize how important those quiet moments in my life really are, and how important is was for me to find them again.  I knew that it was time to take some action, and to make sure I was still making time to take care of me.  I thought I'd share some simple steps that I took to find quiet time and  create a "peaceful space" that I could take quick, but necessary retreats to.
Find a Quiet Space
Now, I know this may be difficult at first, so you may have to get creative. It could be a space in your backyard, or a spare room, even a closet you've been using to store Christmas wrapping paper! Once you identity the perfect spot, you can make a few quick an easy adjustments that work for your daily visits.
I used our guest room for my space.  Let's be honest, no one will be visiting for a while, right?  And it was also quickly turning into a "drop off zone" for packages arriving from Amazon, unfolded laundry and all the kid's music instruments with which they'd lost interest.  So, we started with a thorough clean out of all the things that didn't belong in the guest room.  I cleaned the linen and freshened up the throw pillows.  After that, I did a light "refresh" of the sitting area, which was going to be my new "Zen Zone."
First, I changed out the window treatment.  I removed the dark green panels in the room and replaced them with some neutral colored Semi-Sheer Panels by Better Homes & Gardens.  They let more light shine through, and offered an airy and light compliment to the space.  I also updated the area rug with this one by Better Homes & Gardens at Walmart.  The neutral tones brought just the right touch of balance and warmth.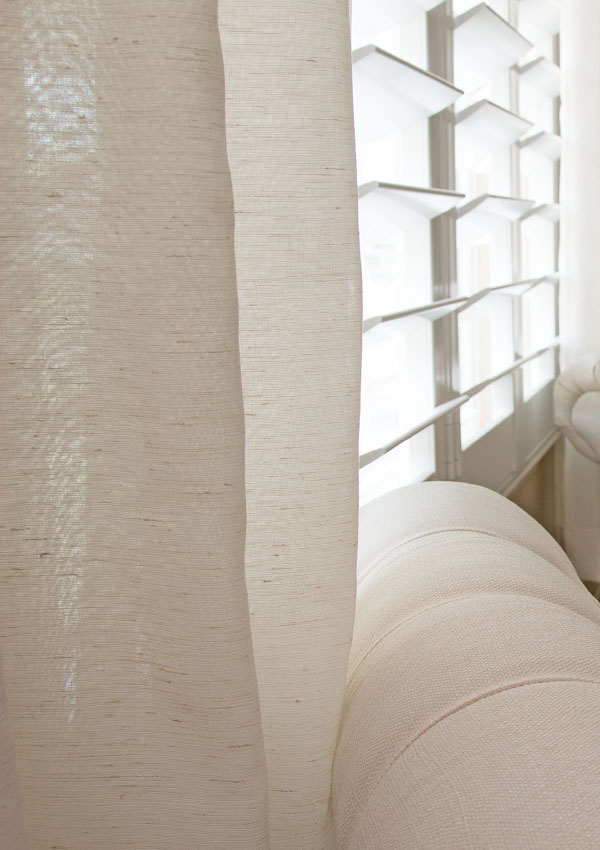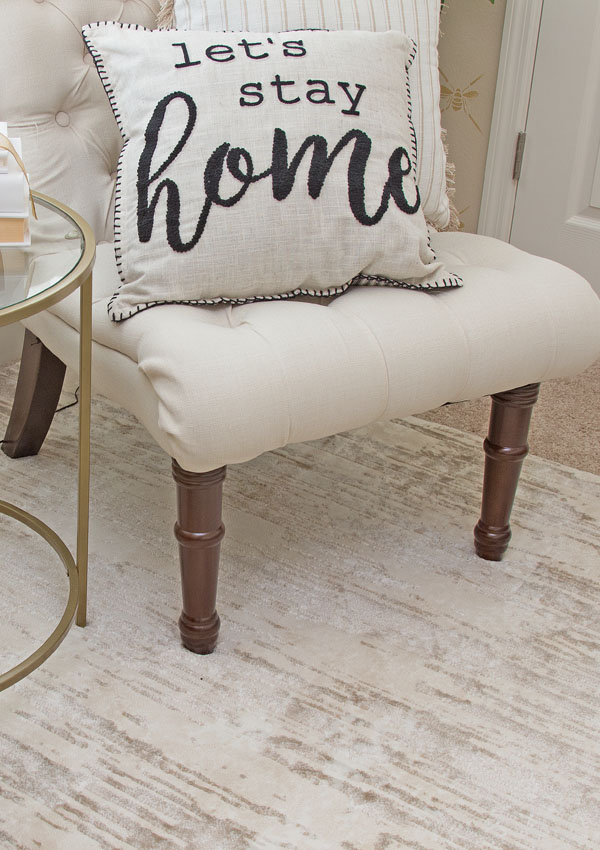 Next, I updated the throw pillows with these Better Homes & Gardens Reversible Stripped Pillows, in Tan.  It's amazing what a difference a few new throw pillows can make.  I really like these because of the reversible stripped patterns.  They allow you to play with different looks, and get your space just right.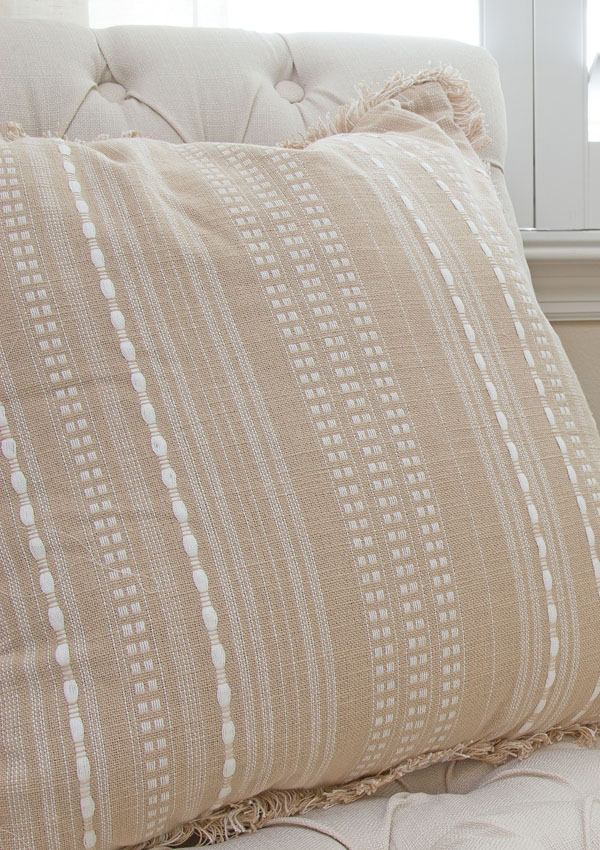 I thought this "Let's Stay Home" pillow was also a nice touch.  It looks great on the guest bed too.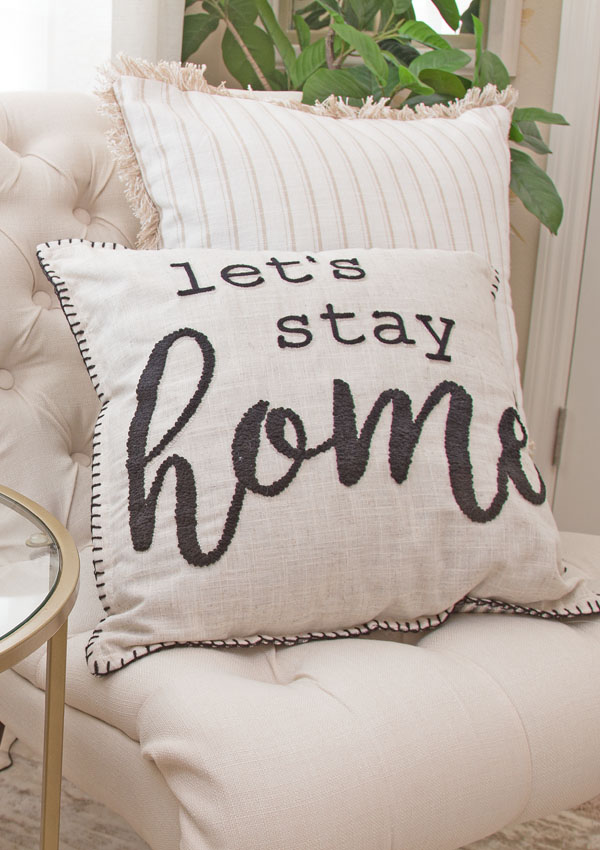 My Zen Zone was really starting to come together, but it needed a little more.  I styled the Nola Side Table with this gorgeous new Luster Vase.  Not only is the color really beautiful, but the glass allows light to pass through, keeping things feeling light and airy.  I added this Diffuser Set because I find aromatherapy to be very relaxing.  Not only did I fall in love with the purple cover, this diffuser offers soothing color changing LED lighting options to match your mood.  I added the Better Homes & Gardens Lavender Essential Oil, perfect to help me de-stress and calm down when visiting my Zen Zone for a few minutes each day.
Commit to 10-15 Minutes a Day
Now that you've found your spot and made it your own, commit to spending 10-15 minutes a day there.  Explain to the spouse and kids how important this time is, and how you really should not be disturbed.  For me personally, I visit my Zen Zone first thing in the morning, because it is the quietest time of the day in our home.  I'm an early riser, and the kids have been sleeping in, so there is really no "negotiating" necessary.  I grab a coffee, turn on my diffuser, pray and write.  I ask myself questions like "What is stressing you out the most today, what are 3 steps you can take to make the issue less stressful?"  Or, "Why am I feeling overwhelmed?"  "What is in my control to change or make better?"  
By asking myself these types of questions, and forcing myself to consider solutions, I feel like I have options for getting through whatever it is I'm dealing with. Thoughts seem to come to me so much more clearly…when it's quiet.
3. Keep Your Zen Zone Clean & Tidy
This may be the most difficult part, especially for all of the moms out there.  Our children have a wait of invading our space sometimes without us even knowing it.  A little Lego here…a snuggle blanket there…and BAM…OPERATION ZEN ZONE INVASION has begun!  Do not let this happen.  I repeat…DO NOT LET THIS HAPPEN.  Your Zen Zone is for YOU, and only YOU.  I find that when I make it a point to tidy up after every visit, it only takes a quick minute, and I look forward to visiting the only space in the house that I "know" will be all pulled together and ready for me when I get there.
So, I hope you've found this helpful.  It's such a trying time in our world today, but I believe it's important to give ourselves permission to pull away from it all, even if it's just for 10 minutes a day.
Until next time,
Love & peace
As part of the BHG Live Better Influencer Network, I am privileged to share awesome tips and inspirational ideas using Better Homes & Gardens at Walmart products.  I will receive compensation for my time and effort to create these posts.  But as always, my opinions are my own.  The convenient shopping links I will provide for you will help support the blog, at no additional cost to you.