Hello everyone, and welcome back to the blog. I hope you all had a wonderful Mother's Day! While it's always a tough holiday for me, my husband and children went above and beyond to make me feel spoiled, cherished and loved. It was truly a beautiful weekend, and I couldn't be more thankful to be surrounded by such an incredible squad of love bugs!
The weekend started with a highly anticipated event that I've been looking forward to for months…The BHG Stylemaker Conference. This year marked the 10th anniversary of Stylemaker, and I was so honored to have been invited to attend an event with so many talented individuals from all across the country! I learned more on the first day of the event than I have over the past several years working as a creator. I have some BIG CHANGES coming to the brand soon, but I'm not ready to share the details just yet.
This month's blog is all about discovering your signature style! As I prepare for the summer months, and making a few styling updates throughout our home, I thought it would be nice to give some tips on how to discover and embrace your signature style. So I hope you leave this blog with at least one new idea or fresh inspiration on showing off your signature style in your own homes.
Before we get started, I'd like to share that as part of the BHG Live Better Influencer Network, each month I'll be sharing awesome tips and inspirational ideas using Better Homes & Gardens at Walmart products. I will receive compensation for my time and effort to create these posts. But as always, my opinions are my own. The convenient shopping links I will provide for you will help support the blog, at no additional cost to you. Now, let's get started!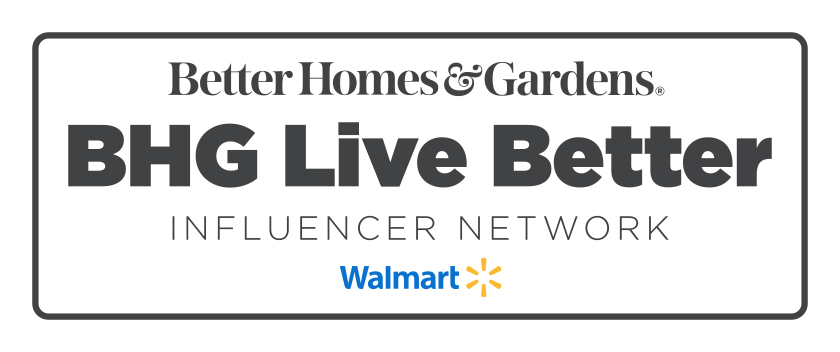 "Signature Style" is a term that I struggled with for many years because I honestly didn't know what my signature style was, or how to embrace it. I found myself frustrated with following trends, both in fashion and home decor, and always seemed to find myself completely dissatisfied with the end result. I needed to really identify my own signature style. And once I did, it made things like shopping for new clothes and home decor so much easier. I knew what I was looking for, and even found it easier to "just be myself" while still keeping up with current trends.
So today, I'm sharing how I updated the seating area in my office, the only room in our home that is a COMPLETE reflection of my signature style. It's where I come to read, write, and of course to work, and be creative. I feel relaxed and excited all at the same time when I'm in my office, and I believe it's because it's a true reflection of everything I enjoy in style.
I'd classify my signature style as "Effortlessly Chic." It's sleek, polished and traditional, with a modern flare that is still very "comfortable." I love gold tones, plush textures, fluffy rugs and gorgeous pops of color. I have a stunning chandelier in the office that sets the tone, and I wanted to update the seating area to compliment the rest of the space.
To start, I added these Better Homes & Gardens Reed Faux Velvet Dining Chairs, in pink. I love them because they offer a modern look that seamlessly blends in with the ornate curves of my writer's desk. The plush velvet makes the space look warm and inviting…it's "effortlessly chic!"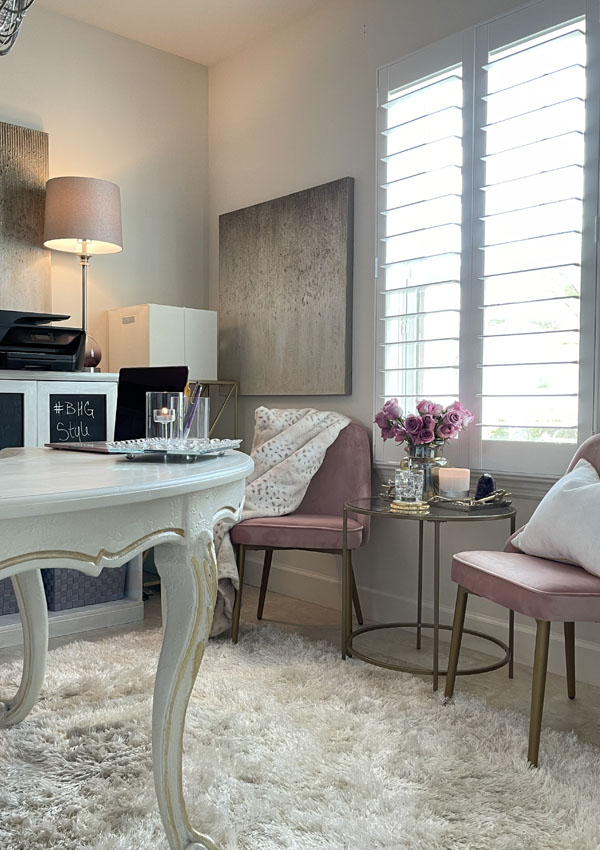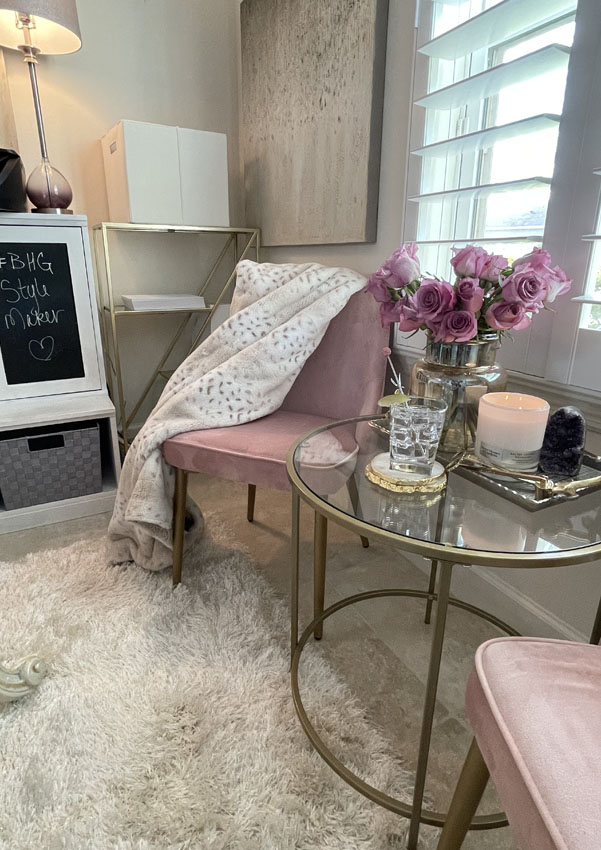 Next, I added the Better Homes & Gardens Nola Side Table in the Gold finish. This table by far is one of my FAVORITE Better Homes & Gardens at Walmart pieces because it offers so much in style versatility. The seating area in my office is rather small, and I didn't want it to feel too crowded, but I definitely needed some space to sit a cocktail or candle. The Nola Side Table can be incorporated into many different signature styles, and has been incorporated into 3 different rooms in our home.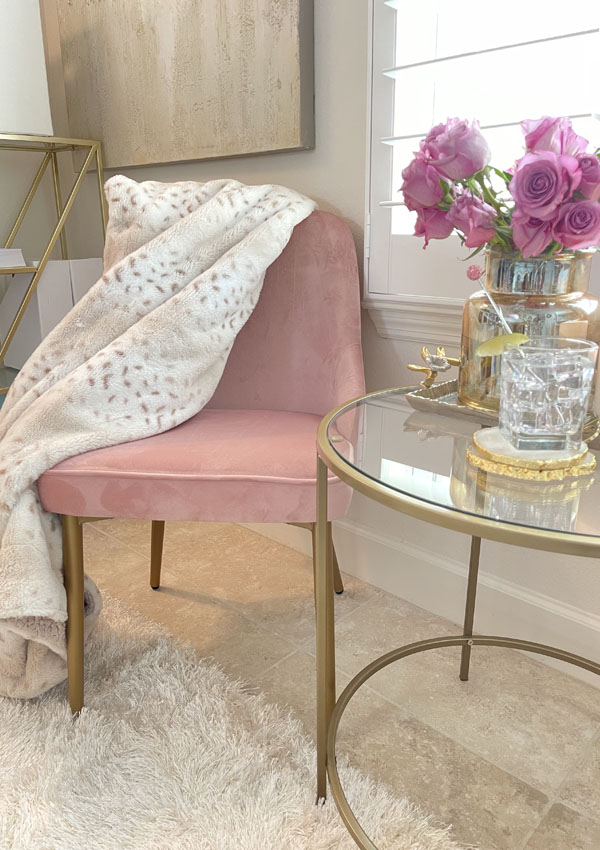 Speaking of cocktails and candles…have you seen the new line of cocktail glasses at Better Homes & Gardens at Walmart?! There are several new cocktail glass styles including this one, the Hollis Drinking Glass. It comes in a set of 4, and is the perfect addition to my Effortlessly Chic sitting area. PS – don't forget a great smelling candle for a scent-sa-tional finishing touch!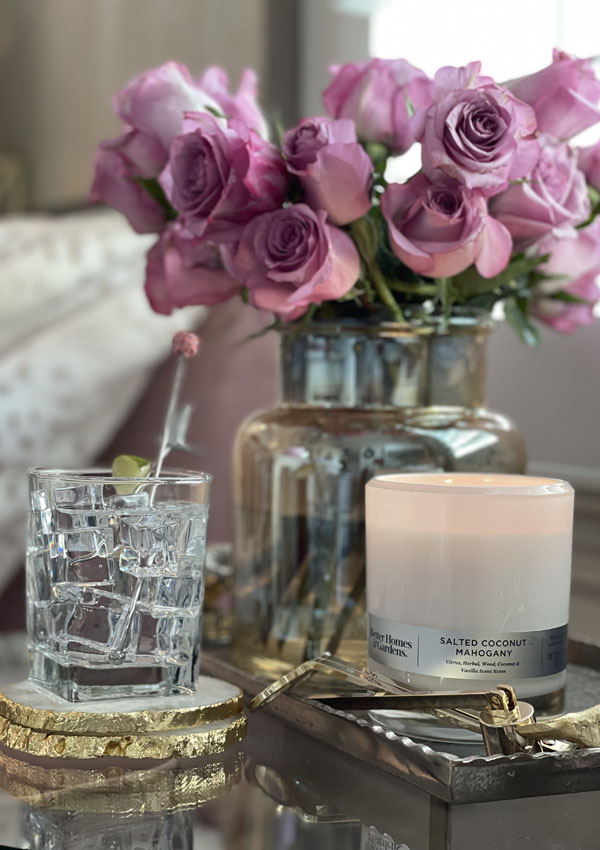 Didn't this area turn out so cute?! Here's a little secret…it's a prelude to a brand new office design, coming soon! I can't wait to share more, but in the meantime, if you're still struggling with how to identify your own signature style, I have a few questions for you to ask yourself that should help get you off to a strong start with your signature style analysis.
What is your favorite color?

Sticking to a specific color palette is one way to help you identify your favorite styles. Are you a lover of neutrals, or do you lean towards lots of bold color? I tend to stick to more of a neutral (or traditional) foundation, and I like to add color with accents. This means that the "base" of my signature style is more "traditional" than anything else.
2. What are 3 words that describe your style?
Here are a few words to get your creativity flowing:
Clean
Chic
Trendy
Bold
Calm
Happy
Casual
Relaxed
You get the idea. Pick a few words that you love when it comes to style (both for clothes and/or home decor), and it will help you narrow down which style truly makes you happy.
3. BE-YOU-TIFUL
I believe that your wardrobe and home decor should be a reflection of who YOU are, today. Don't be afraid to be YOU, or to change your mind. Select colors, patterns and fabrics that work with your lifestyle, and that make you smile when you see or feel them.
I hope you found some new inspiration here today.
Until next time,
Love & peace