Welcome to my 2020 Master Bedroom Extreme Makeover Tour! When I say this was a "Labor of Love," I am NOT kidding. We DIY'd every possible aspect of this room, including the paint, board & batten wall, the LVP flooring, and even the fireplace! Yes, although I designed the fireplace in our Family Room, we definitely didn't build it ourselves! But we took on the 2020 Master Bedroom Extreme Makeover like true champions, and wanted to do every part of it ourselves.
Before we get started, I need to disclose that this blog contains affiliate links added for your shopping convenience. Using them adds no additional cost to you, and helps me earn a little income. Thank you for your support.
I will say that one of the biggest challenges of the 2020 Master Bedroom Extreme Makeover was product availability. I had not one, but TWO really disappointing experiences when trying to order our new bed. But I really just "had" to have it, and thankfully, it all worked out in the end.
So, let's get started with the 2020 Master Bedroom Extreme Makeover Tour! As I mentioned earlier, product availability was a huge challenge because of everything going on right now. So I still have some pieces that I'm waiting on, but I didn't want to let that slow down the tour any longer. So, let's take a quick look at what we were dealing with to start.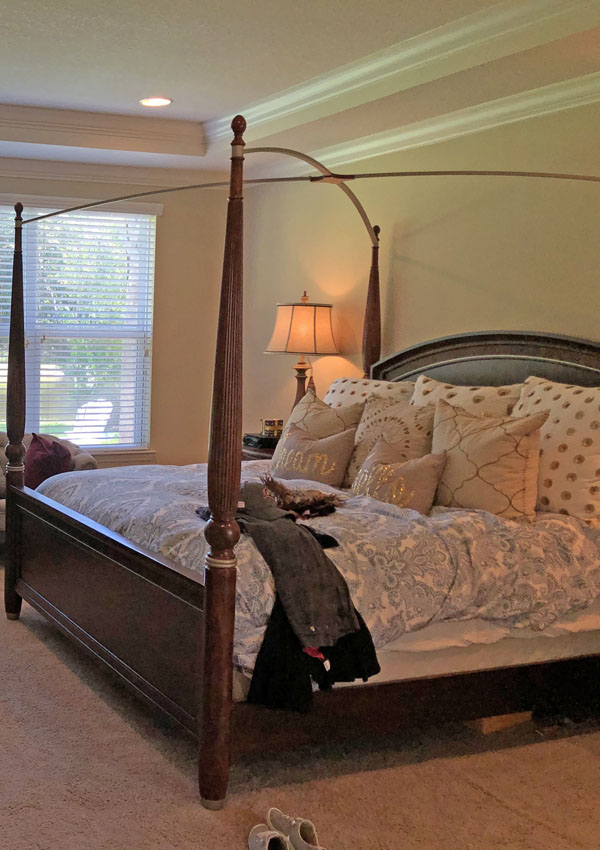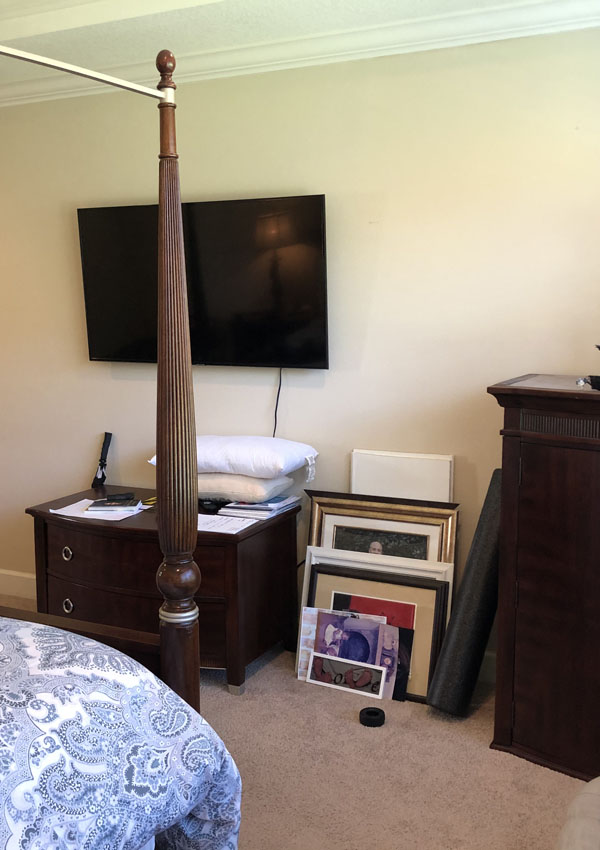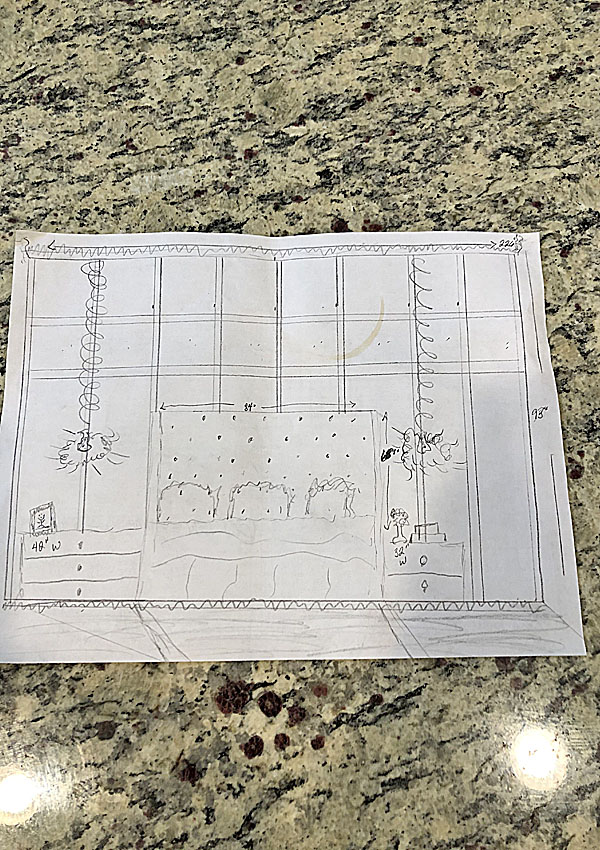 I don't know why, but we saved the Master Bedroom for last. I've styled (and even restyled) practically every single room in the house. But I just didn't feel motivated to do anything in our room for a long time. Then, after the pandemic occurred, and we had all of this extra down time, it just felt like it was time to get moving.
It all began with a warm, neural color palette. We wanted something that felt light, cozy, romantic and inviting. So I decided to incorporate warm metals, luxurious fabrics and just a little hint of glam. I wanted my husband to feel like he had an influence in our room too…and his special request was that the room didn't feel like "only a woman lived in there."
We started by painting the entire room (the whole house, actually) in Benjamin Moore Edgecomb Gray, and then I designed a Board & Batten Wall. If you missed that video, click here. It was really easy, and cost less than $70! Money well spent to completely transform the look of the room. It immediately looked bigger, and felt more inviting. After that, we did a DIY LVP floor. That was honestly more challenging than I thought it would be, but we did it. After after a couple of months in, we are still loving it. I've had a couple of light water spills, that caused no damage at all. And there have been no scratches yet that I can see.
Once we ordered the flooring and had an installation plan in place, it was time to order the furniture. I knew exactly which bed I wanted, and ordered it from Macy's Furniture. I'm going to make a long story VERY short. After more than 8 weeks of calling and waiting, I finally got someone on the phone, who informed me that the furniture had been discontinued. While I was disappointed, I understood that things were a little crazy during this time. My issue, however, was that Macy's kept putting a new hold on my credit card about every two weeks, even though they knew the furniture wasn't coming. I was livid! They claimed that they sent out a mass email to customers who had ordered the furniture, but I never received one. And when I asked the CSR to forward the email to me as proof, she couldn't produce the email. Furthermore, she was rude and quite dismissive about the entire situation. If you've been following for a while, you KNOW I keep it 100% positive here at The Mellionaire House. However, I feel that it's only fair to share this particular experience with you, because so many of you trust my recommendations with brands and companies. I hope that makes sense.
So, I found the bed on another website, AGAIN. I CONFIRMED THAT IT WAS IN STOCK, and ordered it AGAIN, only to find out two weeks later…that the bed was no longer in stock. I was starting to think that maybe it just wasn't meant to be. We'd been sleeping with our mattress on the floor for weeks…subscribers were waiting on a YouTube video tour… I was starting to feel really overwhelmed and defeated! At least that company was friendly an apologetic about everything. I will link the bed below…just please understand that it has been discontinued. So your chances of finding it are slim. But I kept searching high and low…I'd based SO MUCH of the room's design off of the measurements of this bed! I happened to find a floor model that was still available! It had a couple of light dust stains on the footboard that I was able to remove quite easily, thankfully. Best part…I only paid $475 for the bed! I originally paid more than DOUBLE that price during my first and second purchases. It was frustrating overall, but wow…WHAT A WIN!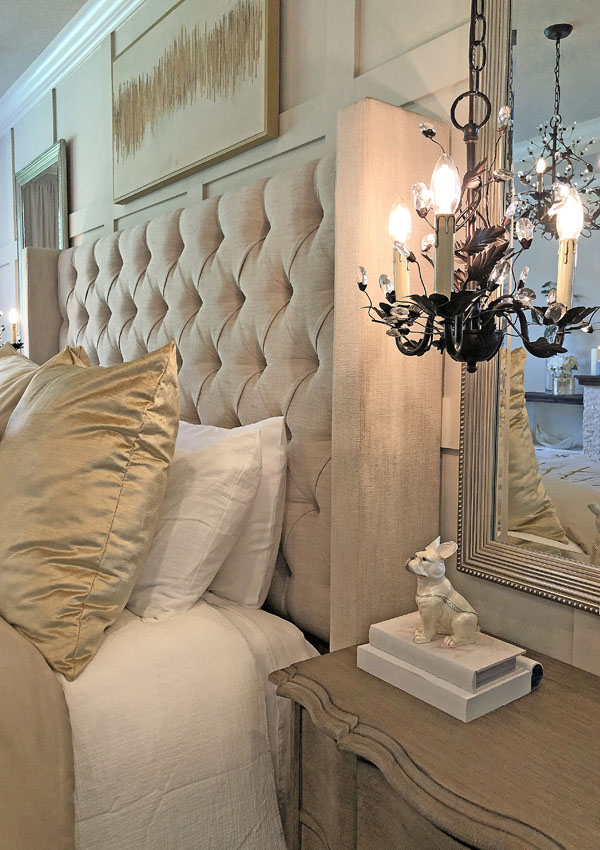 The Duvet Cover was also a win. I fell in LOVE with it from the moment I saw it. It offered just the perfect hint of luxury and serenity at the same time. It's embroidered with metallic gold stitching and has a 100% cotton sateen finish…yes, please…and THANK YOU Michael Aram!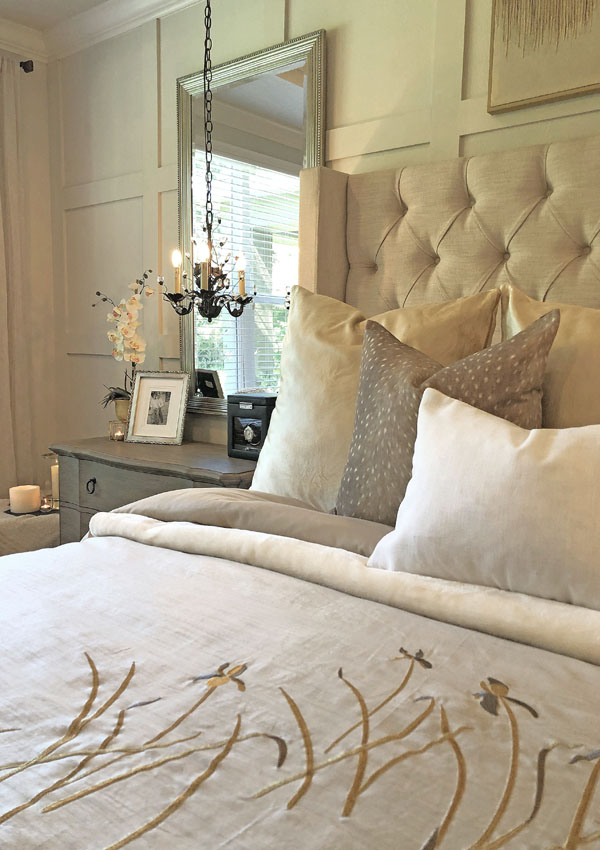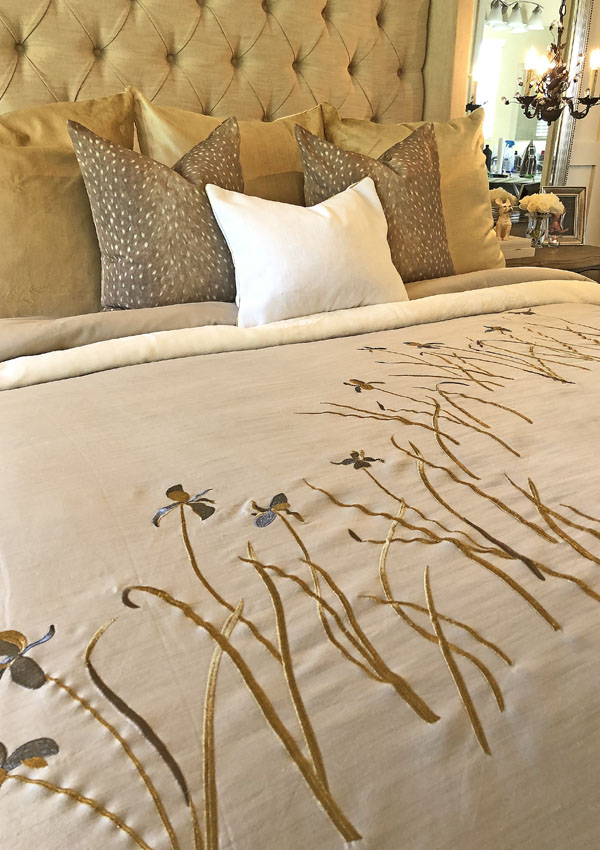 I had trouble finding the perfect tones and textures for the throw pillows, so I ended up having them custom made. Click here to pick out your own custom pattern!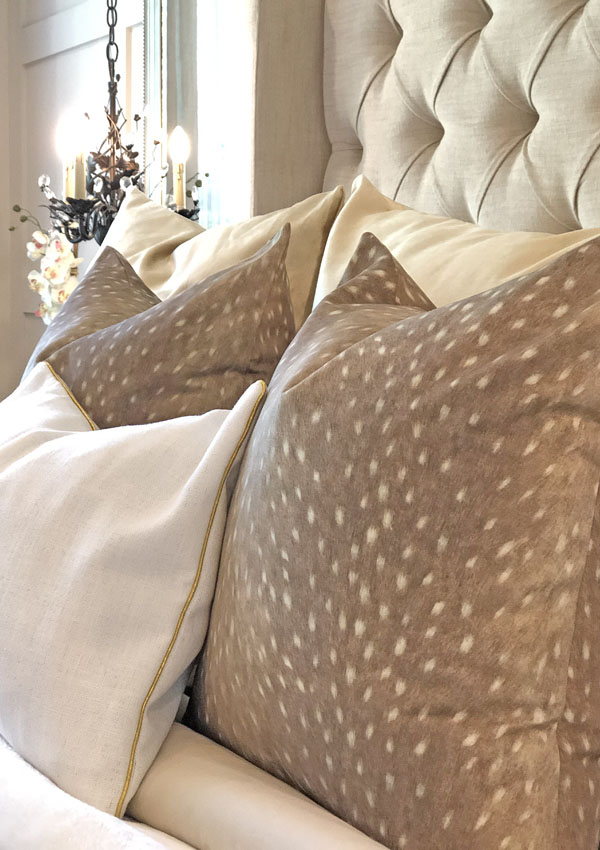 For the rug, I wanted something substantial, but that wouldn't pull away from the beauty of the LVP flooring we had just laid. I decided that a tone-on-tone, hi-low pile would be perfect for the space. And this one caught my eye immediately. It really helped to ground our room's decor, but not overpower the space. It's hand tufted in India, and was just perfect for our neutral palette. Very sophisticated…very beautiful.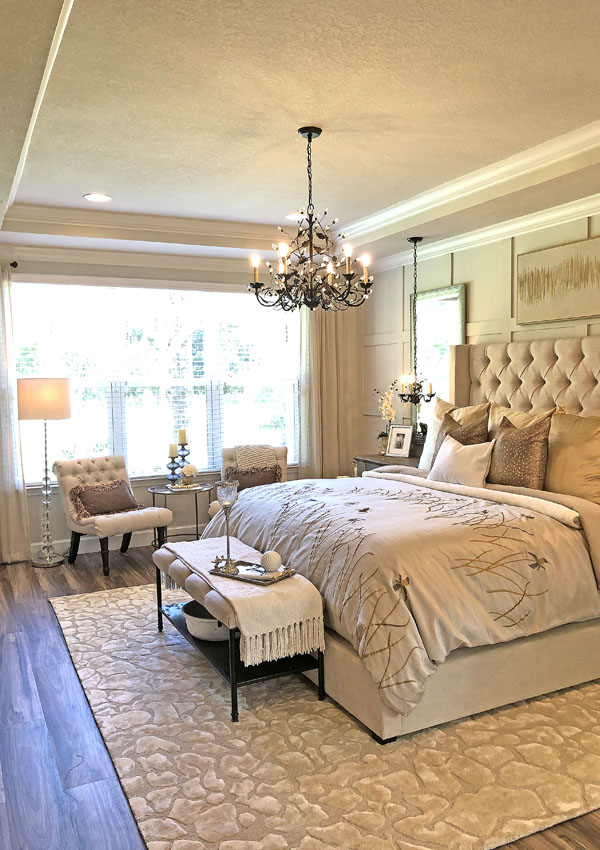 Now, I have quite the story for you regarding the 6-Arm Chandelier and Mini Pendants I chose for our 2020 Master Bedroom Extreme Makeover. Let me start by saying that I'd been eyeing this chandelier for our home for quite some time…years. Just never got around to buying it, because we just weren't ready to design our Master Bedroom, and I was pretty sure that was the room I wanted the lighting to go into. The 6-Arm Chandelier in our 2020 Master Bedroom Extreme Makeover retails for $600, and the Petite Chandeliers retail for $300 each. But I was conducting an "I'm bored with what's on TV" search on good ole' FaceBook Marketplace late one night. And would you believe that someone here in Tampa was selling them…one 6-Arm Chandelier…and 2 Petite Chandeliers?! Guess how much she wanted for all 3…I'll wait.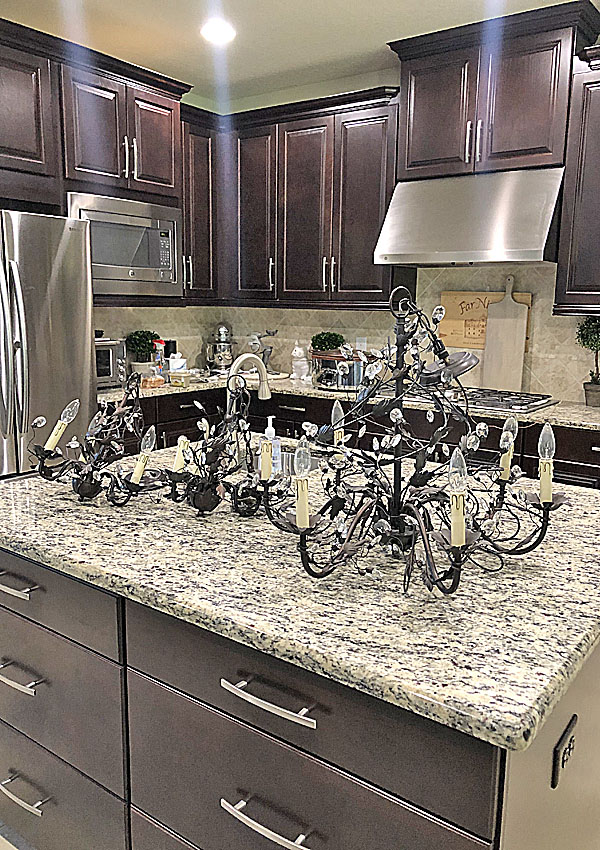 MY FRIENDS…I got all 3 pieces of this beautiful lighting for only…$375!!!
(Hang on…crying happy tears…)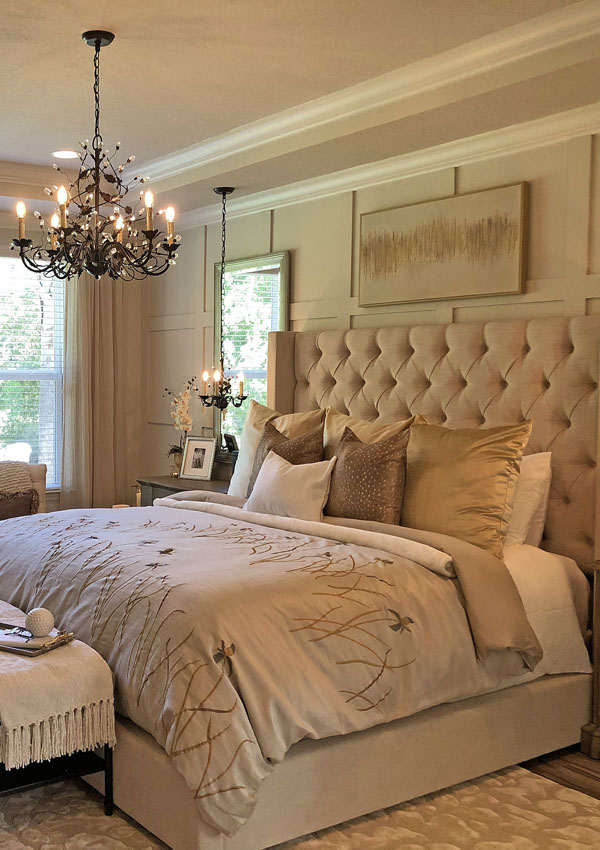 I couldn't believe it. AND…she donated the proceeds to charity! STAAAAAHP!!! For all the trouble I went through with the bed, I'd say this win certainly made up for it! I'd actually planned to spray paint the new chandeliers a champagne color. But when I got them home and saw them in the room…they were just perfect. Installed all three of them myself. I hung long rectangular mirrors I found at Homegoods behind them. The mirrors help to bounce the light, and give gorgeous daytime reflections of outside too.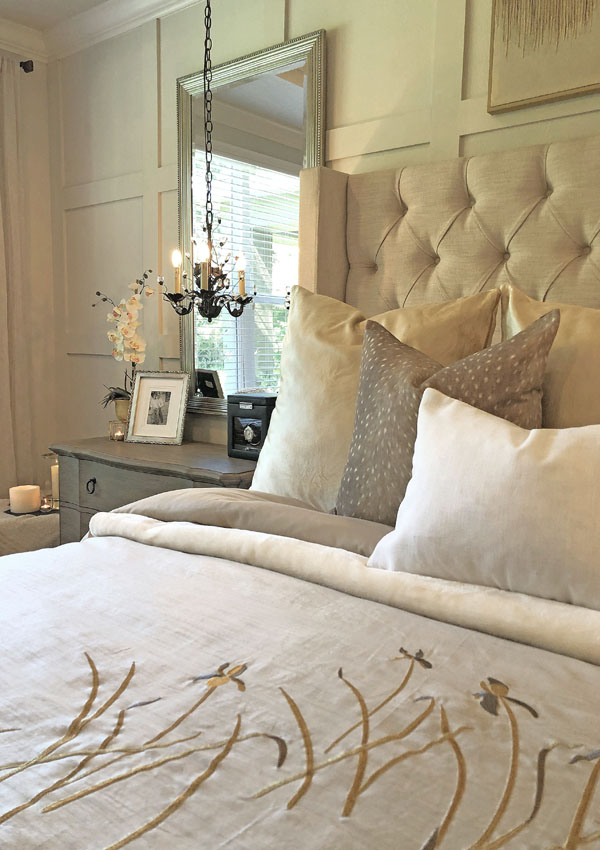 For the nightstands, I got a little creative with the design. For his side, I ordered a Bachelor's Chest for a more masculine feel, and extra drawer space. For my side, I ordered a traditional nightstand from the same line with a little more curving and detail. Both offer felt lined top drawers, charging plug stations, and touch under-lighting that looks really beautiful in the evenings.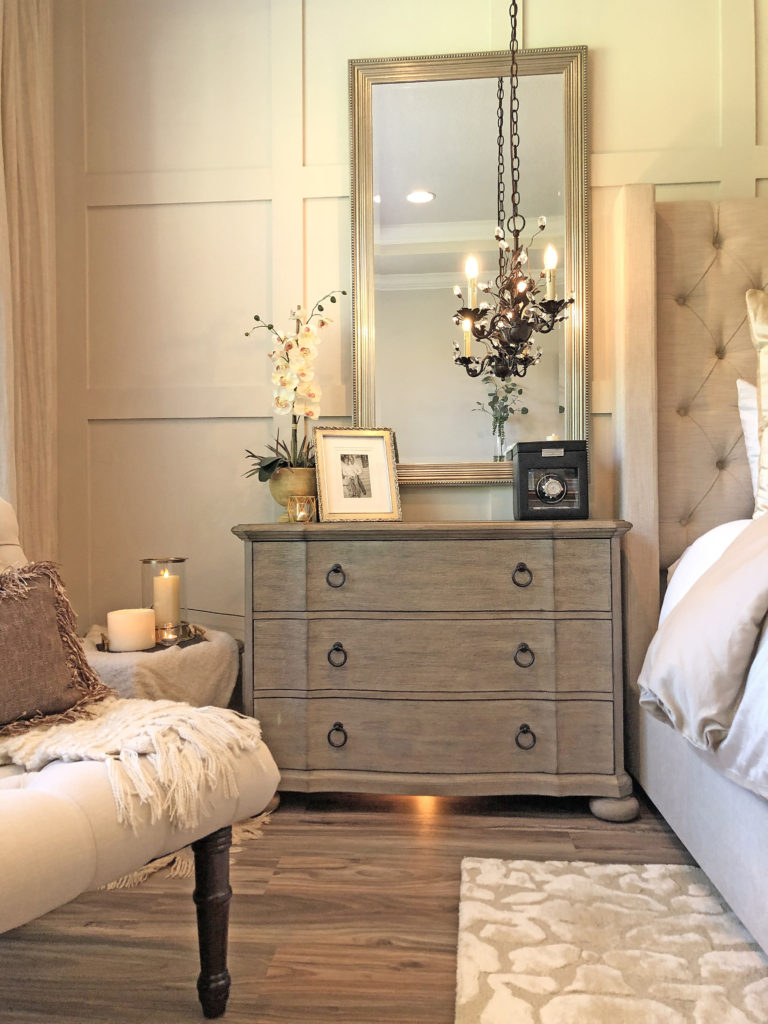 If you recognize the chairs in our seating area, it's because you've seen them before in our Guest Bedroom. The new loveseat I'd been eyeing for that space was…you guessed it…out of stock. So I decided to just make do with chairs we already had. They were honestly a perfect fit!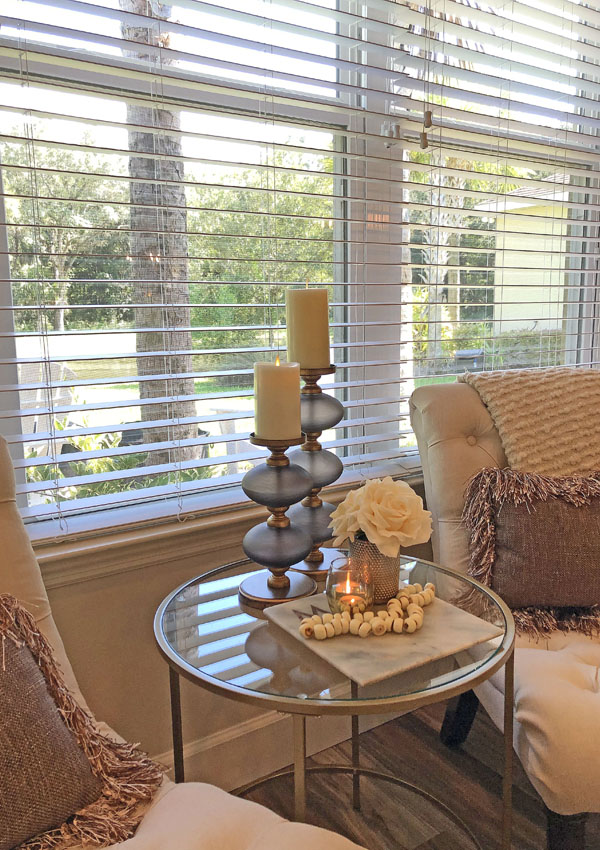 The DIY fireplace and built-in was the final step in the process to complete the 2020 Master Bedroom Extreme Makeover. I just LOVE a fireplace in a bedroom. Not only are the beautiful, but the ambience really sets the tone for relaxation and romance. Although I'd designed our fireplace in the Family Room, we hired someone else to build it. But we watched him closely during the process, and felt pretty confident that we could do this one on our own. I think it turned out AMAZING, especially for our first time doing something like this!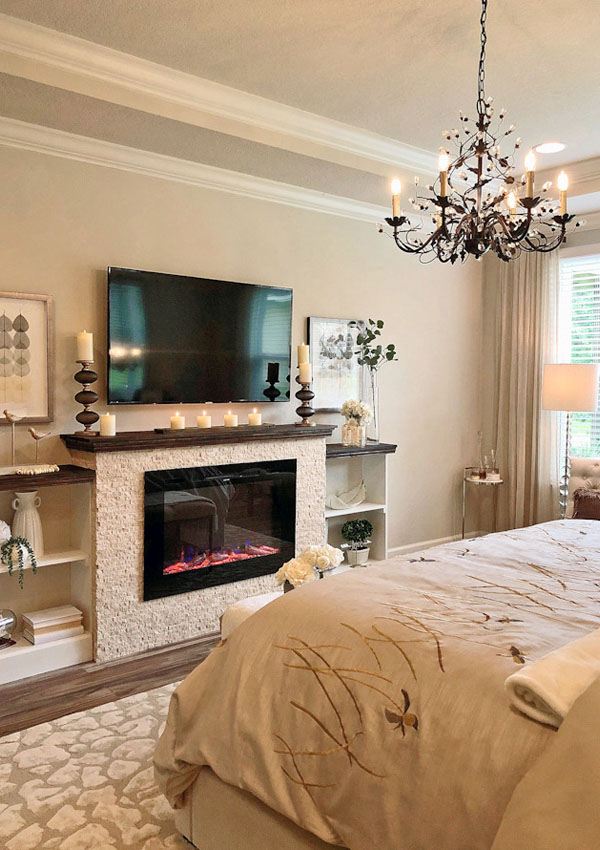 And that's basically it for the 2020 Master Bedroom Extreme Makeover! We have really been enjoying this space. The twins keep trying to ease their way in each evening to hang out in our bed. But I'm being pretty firm that this a special room, for just the two of us. We'll see how that goes.
Thanks for stopping by! If you missed the full video tour, you can click here to watch it.
Until next time,
Love & peace