Well, it's the most wonderful time of the year…right?! And oh, what a year it has been. I sincerely hope that my 12 Days of Christmas series over on my YouTube channel brought you some much needed Christmas cheer, and of course lots of ideas and inspiration! But wait, there's more! I still haven't shared any of the upstairs holiday decor with you, so let's get started! Today, I'm sharing The Boy Twin's very complicated Christmas room design with you. He is always my toughest client, because we have very different design styles…but I love a challenge. And I definitely love to see his big, beautiful smile.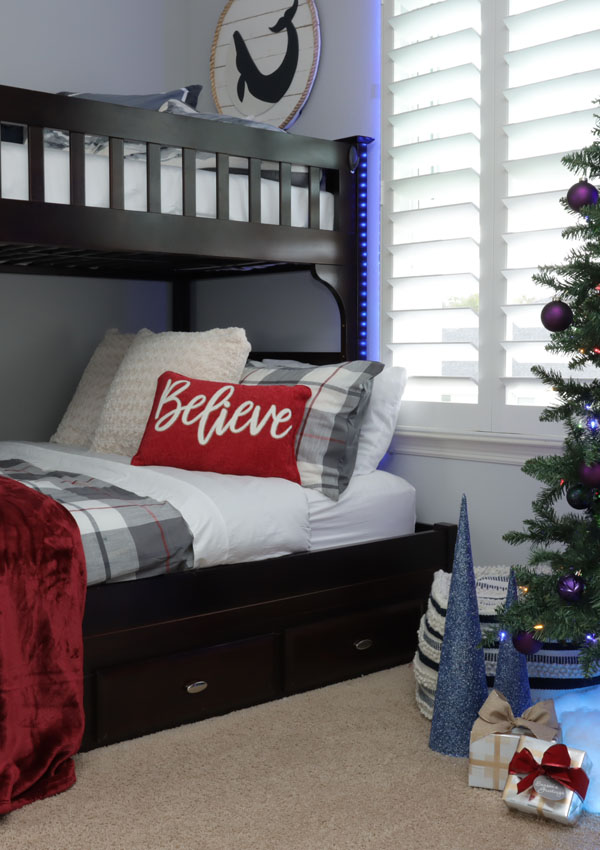 If you've been following me for a while, then you know that each of my children get their own Christmas trees in their rooms each year. I really look forward to this tradition each year because it allows me to spend some one-on-one time with each individual child, and to see their creativity come to life on their trees. They are allowed to decorate their trees however they like. I just pitch in and offer subtle design suggestions here and there. The Boy Twin has had a "Spider Man" themed tree for the past several years. But this year he wanted to change things up. He asked for a Black Panther Christmas theme. "WOWZERS" was my first reaction (not out loud, of course). I panicked just a bit because I had NO IDEA how to pull together a Christmas tree with blacks, purples and blues…and still make it "feel like Christmas."
So I asked The Boy…"what does a Black Panther themed Christmas look like?" And he said, "Mommy, we need lots of blue and purple…and a tree with different colored lights!"
When he mentioned the tree with multi-colored lights, it immediately reminded me of the trees of my own childhood. Multi-colored lights were definitely on trend back then, and I thought about how beautiful I used to think they were, and how excited I was when I was his age, to come home and see our Christmas tree all lit up. So, it was time to get to work. I needed to find a multi-colored pre-lit tree…with lots of blue and purple lights.
Finding the multi-colored pre-lit tree was a piece of cake.  There were several very reasonably priced options at Walmart, and I actually found one that we could program for either "all white" lights or "multi-colored" lights, and it was the perfect size.  The challenge came with how to add blue and purple lights.  But thanks for a few solutions from Better Homes & Gardens at Walmart, I was able to get really creative, at a really affordable price.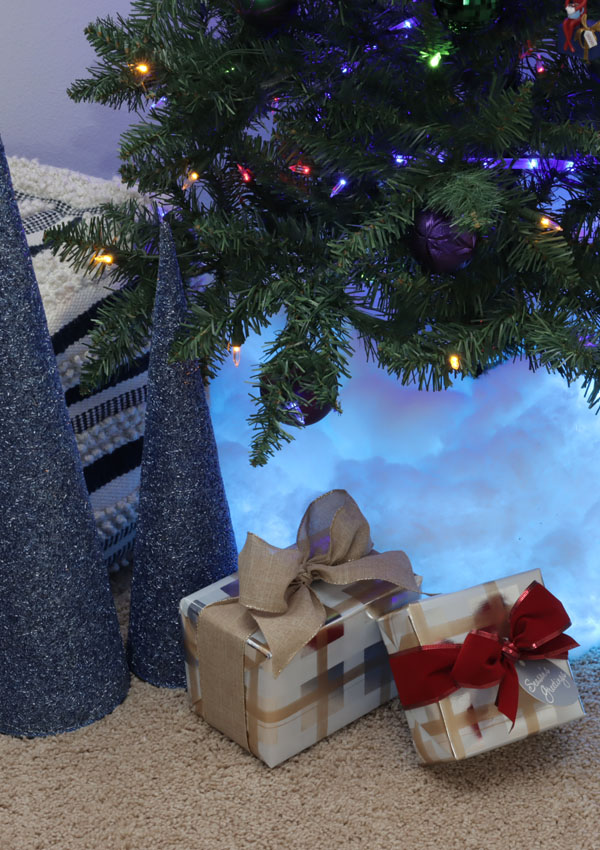 I found this really cool blue Better Homes & Gardens 16 Ft Blue LED Rope Light, and added it down the center of the tree.  This added a blue glow from the center of the tree, similar to the blue glows often seen in The Black Panther motion picture.  Next, to add in some purple, I installed the Better Homes & Gardens 16 foot Daylight LED Flat Strips to frame out his bedroom window.  The rope light comes with a remote, and offers multiple features, including different light show speeds, and several different colors.  That worked out perfectly because once the holidays are over, I can repurpose them somewhere else in the house.  Next, we added some purple ornaments, and topped the tree with The Boy's Black Panther mask.  Not my ideal tree by any means…but he absolutely LOVED it…and that just makes my heart sing.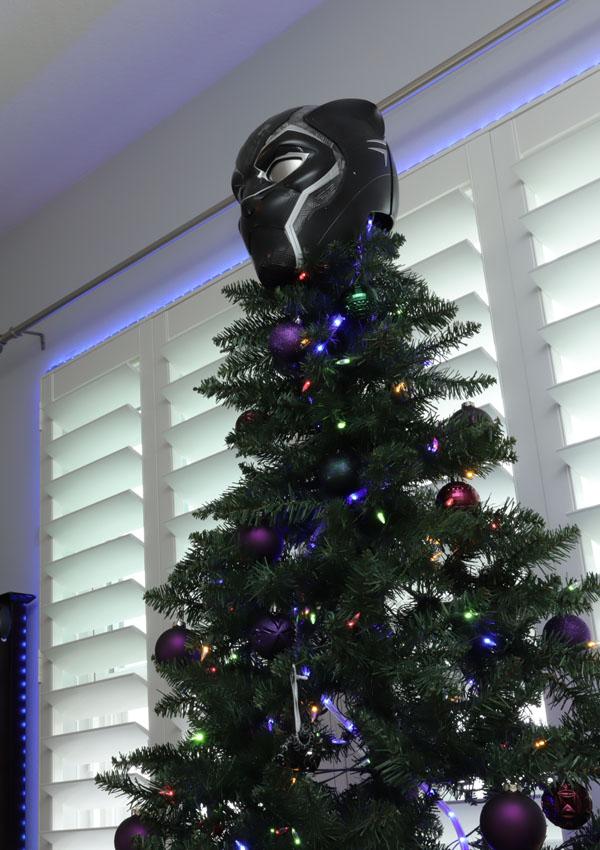 I finished off the look by adding some festive bedding.  I started with the Better Homes & Gardens 400 Thread-Count Hygro Cotton Performance Bedding Sheet Sets for both bunks, in white.  I really love these sheets because they sleep cool in the summer and warm in the winter.  They are durable, and super soft to the touch, and a win for a comfortable nights sleep in any room or climate.  I also added the Luxury Velvet Plush Blankets, in red.  They are weighted for added warmth on those cold winter nights.  To complete the look, I added the Better Homes & Gardens 3-Piece Full/Queen Homestead Plaid Comforter Set.  It offers the perfect mix of warm holiday reds and deep grey tones.  Finally, lots of throw pillows, like this one…reminding us all to believe.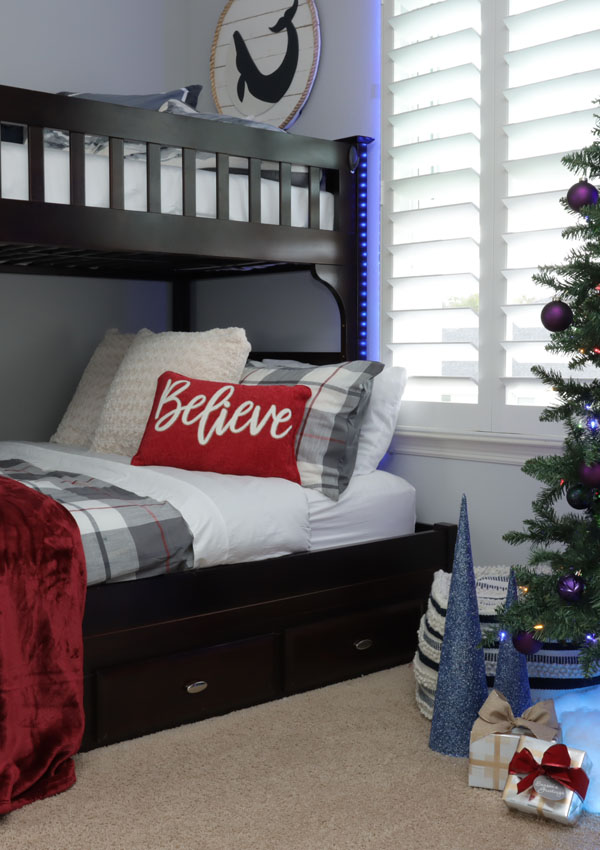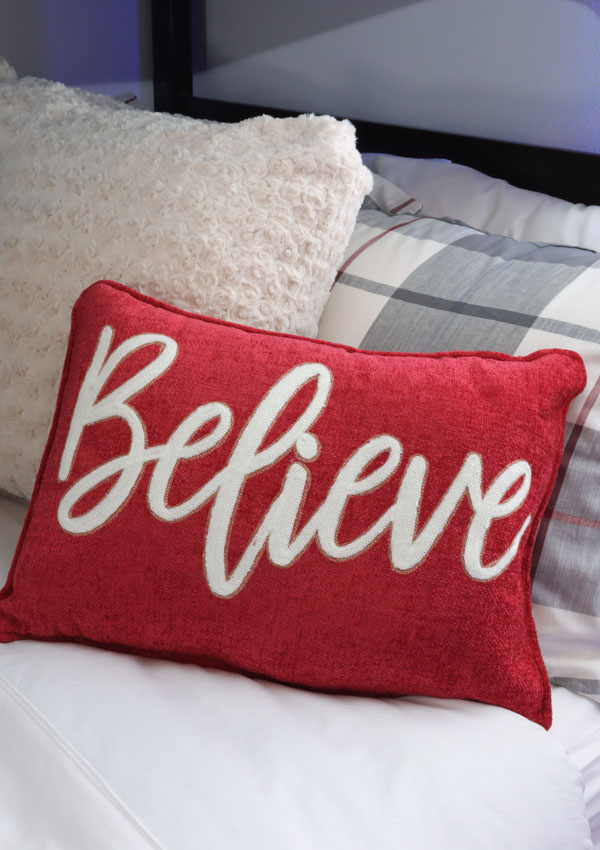 The Boy Twin is a happy camper.  His Black Panther Christmas themed room is quite the hit with all of his little FaceTime friends and he enjoys putting on a little light show with the rope lights framing his windows for our neighbors each night.  And while his room is definitely not a reflection of what the rest of the house looks like this time of year, it is a beautiful reminder of the good old days of my own childhood.  It brings back some amazing memories, and hopefully we've created some new ones that he can share with his own children some day.
Thanks for stopping by. Merry Christmas, Happy Holidays…and as always,
Love & peace
This post is sponsored by Better Homes & Gardens at Walmart.
As part of the BHG Live Better Influencer Network, I am privileged to share awesome tips and inspirational ideas using Better Homes & Gardens at Walmart products.  I will receive compensation for my time and effort to create these posts.  But as always, my opinions are my own.  The convenient shopping links I will provide for you will help support the blog, at no additional cost to you.